Regional dimensions of Ukraine war with global scope
January 20, 2023 - 22:22
TEHRAN- Though the Ukraine war is considered a regional war in terms of geographical division, its global dimensions and effects are so wide that it can be considered a conflict in the Western hemisphere with an impact on the whole world.
One of the surprises of this war is that it took place in a continent that was considered the epitome of peace and security for years and decades, and its residents did not hear the sound of any kind of gunshot except the Serbian war in the Balkans.
The war, which is still going on and is getting more intense every day, and there is no prospect of end to it, began in February 2014 with a speech by Russian President Vladimir Putin.
If we go through the grounds and roots of the war, we must look at the costs it has had for Europe, affecting one of the centers of wealth and industry in the world.
Today, inflation in the world, and of course in Europe, is very high, however, the European continent is caught in an energy crisis.
In addition to the main responsibility of supplying the weapons needed by Kiev, Europe must also try to compensate the costs that this war has had on the continent, including the migration of war refugees, the increase in energy costs, and inflation.
Energy is Europe's Achilles heel in the Ukraine war
One of the most important weaknesses of Europe is its dependence on energy imports from outside the continent, especially from Russia.
After the start of the war in Ukraine, Europe tried to support Ukraine as the front line of protecting NATO's security line, but the policy caused problems.
In 2021, the EU imported 40% of its gas from Russia - so many of its member states were exposed to high energy prices.
This restriction has created problems for European citizens and has raised the cost of living in the continent to its highest level in the last few decades.
Russia's war on Ukraine impacted energy prices across Europe, Reuters reported on 29 Sep. 2022. Italy's regulated household electricity prices increased by 59% in the fourth quarter, Italy's energy authority ARERA said.
The change, which reflects a spike in wholesale energy prices, concerns 41.5% of Italian households, according to ARERA's 2021 data.
Market conditions would have dictated a far higher price hike of "about 100%", but ARERA intervened "exceptionally" to dampen the increase.
Electricity prices also in France averaged 62.94 EUR/MWh from 2004 until 2022, reaching an all-time high of 743.84 EUR/MWh in August of 2022. Prices remained well above those of European neighbors.
Expressed in euro, average household electricity prices in the first half of 2022 were highest in Denmark (€45.6), Belgium (€33.8), Germany (€32.8) and Italy (€31.2).
According to a report released by Eurostat on 32 Oct. 2022, in the first half of 2022, average household electricity prices in the EU increased sharply compared with the same period in 2021, from €22.0 per 100 kWh to reach €25.3 per 100 kWh. Average gas prices also increased compared with the same period in 2021 from €6.4 per 100 kWh to €8.6 per 100 kWh in the first half of 2022.
More recently, accordingly, wholesale prices for electricity and gas have increased substantially across the EU. Energy and supply costs impacted by the current geopolitical situation, the Russian military aggression in Ukraine, mainly drove the increase.
Reducing prices with government aid!
Although it is sometimes claimed that some energy carriers have decreased in European countries and the war in Ukraine has not affected the continent that much, all these price reductions are due to government subsidies and aid.
Compared with a year ago, the weight of taxes and levies in the final electricity and gas bills charged to households in the EU in the first half of 2022 decreased significantly as member states put in place governmental allowances and subsidies to mitigate high-energy costs. Compared with the first half of 2021, the share of taxes in the electricity bill dropped sharply from 39% to 24% (-15.5%) and in the gas bill from 36% to 27% (-8.6%).
The BBC announced in a report on December 21, 2022, that Poland has announced plans for an energy price support package for households, worth 26.8bn zlotys (£4.8bn).
It includes freezing energy prices for 2023 at this year's level, with a limit of 2,000 kWh per year for most households. There will be higher thresholds for households with people with disabilities and for families with three or more children.
The government has abolished VAT on food, gas and fertilizer and reduced it on petrol, diesel and energy bills.
There is also a new mandatory 10% electricity saving for national and local government public administrations.
According to the BBC, Norway has set a maximum price that households should pay for their energy - anything over this, the government will pay 80% of the bill.
The UK government has brought in a cap on the price of a unit of energy until April 2023, which will mean the typical household bill for gas and electricity will be £2,500 a year.
This is being extended to April 2024, but typical bills will be capped at £3,000 a year.
There will be more support for those on benefits and for pensions households.
In October, the German parliament approved a "defensive shield" package worth €200bn (£175bn). It includes a cap on gas and electricity prices for households and some businesses from early next year.
The government will pay December's monthly gas bill for all households and small-to-medium businesses.
In September and October, all taxpayers received a one-off energy payment €300. There has been extra help for people on benefits.
Public transport tickets were subsidized.
In January, the French government forced the state-owned energy provider, Électricité de France (EDF), to cap price rises at 4% for a year.
It says it will cap rises in gas and electricity at 15% for 2023, as part of a €45bn (£39bn) scheme to support households and businesses.
France had already announced a one-off €100 (£84) payment last year to 5.8 million households receiving energy vouchers.
The aid was while the countries and the EU itself also listed their plans to reduce energy consumption.
Inflation nightmare for the continent
Another consequence of the Russian war is the unbridled inflation that the European Union has suffered.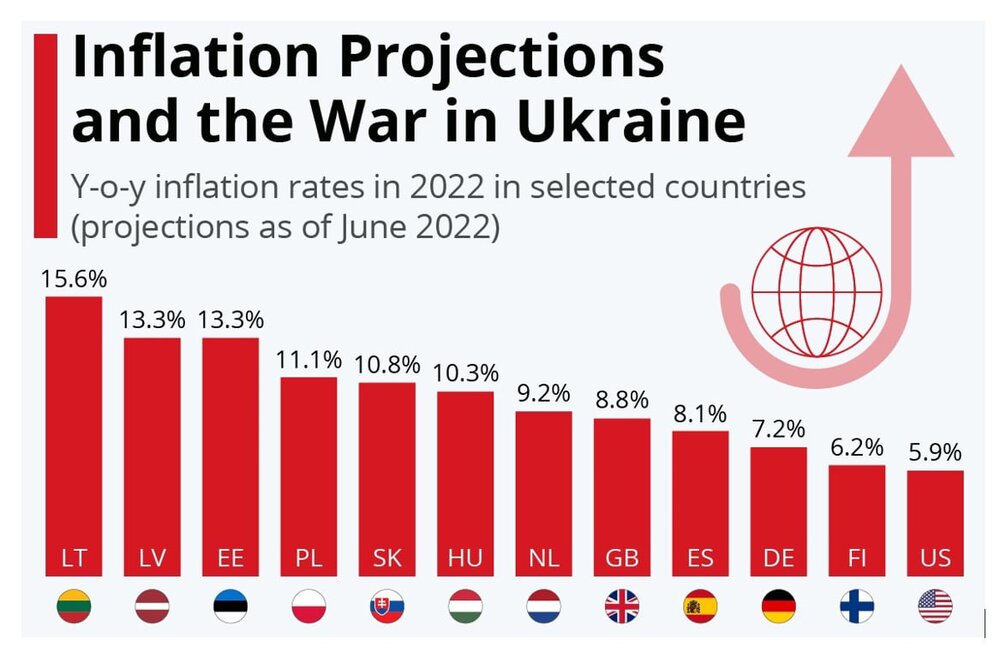 The sudden increase in the cost of transportation due to the increase in the price of fuel and energy and the increase in the price of goods has caused Europeans to bear additional costs for their livelihood in the last two or three years.
Eurozone government bond yields in 2022 have risen after inflation data showed consumer prices climbed at a record pace in October, heaping pressure on the European Central Bank to continue aggressive policy tightening.
Consumer price growth in the 19 countries with euro as their monetary unit accelerated to 10.7 percent in October from 9.9 percent a month earlier, data showed.
Inflation, excluding unprocessed food and energy, accelerated to 6.4 percent from 6 percent. An even narrower measure that also filters out alcohol and tobacco rose to 5 percent from 4.8 percent.
The data points to further rate increases from the European Central Bank (ECB) in an attempt to bring inflation back down toward its target.
"The ECB's goal of pushing the inflation rate back to just under 2 percent on a sustainable basis seems a long way off," Commerzbank senior economist Christoph Weil said, noting the ECB forecast inflation at 9.2 percent in the final quarter of 2022.
"This also increases the pressure on the ECB Governing Council to further raise key rates sharply," Weil added.
Spanish consumer prices have risen at the fastest pace since September 1984, national statistics for July (2022) showed, as inflation in the European countries using the euro currency shot up to another record, preliminary data released on Friday by Spain's National Statistics Institute (INE) shows.
PINE said prices increased 10.8 percent year-on-year this month, up from 10.2 percent in June.
As the infographic (at the end of the paragraph) based on the latest OECD Economic Outlook shows, the impact of rising consumer prices is being especially felt in Europe and countries neighboring Ukraine. For Lithuania, OECD analysts had projected an inflation rate of 15.6 percent for 2022 - compared to the previous forecast from December 2021, which was an increase of 12.4 percentage points.