Tourism minister calls on Treasury of National Jewels to reopen doors to museumgoers  
January 25, 2023 - 19:15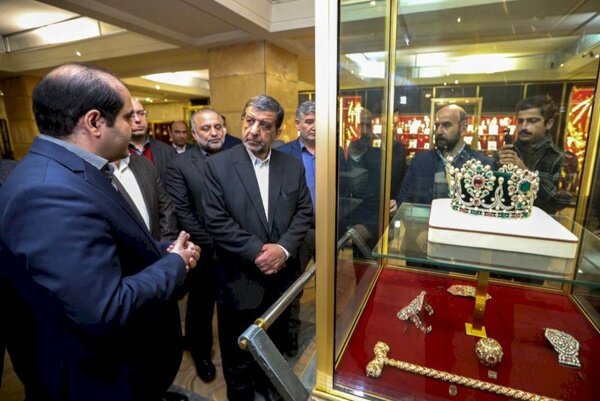 TEHRAN – It is time for the Treasury of National Jewels to open its doors to the public, Iran's Cultural Heritage, Tourism, and Handicrafts Minister Ezzatollah Zarghami has said. 
"It is my request that the treasury officials provide the public with another opportunity to visit the National Jewels Treasury," the minister said during his visit to the place on Tuesday.
It is worth visiting here to see the beauty and art of these works and to understand royal lifestyles wiped out by the Islamic Revolution, he added.
There have been rumors about the disappearance of two highly magnificent crowns of this treasure in cyberspace in the past few weeks, and since the doors of this place have been closed due to the outbreak of the coronavirus, the rumors have gained strength.
It was for this reason that the minister paid a special visit to the treasury and confirmed the existence of these crowns.
There are famous, small, and big crowns here that are related to the royal families of the Qajar and Pahlavi dynasties, but they are insignificant compared to the treasures that were looted by these families, the minister stated.
Owned by the Central Bank of Iran and accessed through its front doors, the incomparable Treasury of the National Jewels is a collection of the most expensive jewels of the world, collected over centuries. Commonly known as the 'Jewels Museum', it is not to be missed while in the Iranian capital.
Every piece of this collection is a reflection of the tumultuous history of this great nation, and the artistry of the residents of this land. Each piece recalls memories of bitter-sweet victories and defeats, of the pride and arrogance of rulers who were powerful or weak.
These jewels and rarities were decorations for the rulers during the past eras, and often showed the glory and extravagance of their courts, as well as their power and wealth. The Safavid, Qajar, and Pahlavi monarchs adorned themselves and their belongings with an astounding range of priceless gems and precious metals, making this collection of bling quite literally jaw-dropping. Star pieces include the Globe of Jewels and the Peacock Throne.
This Treasury, according to the Central Bank, on one hand, depicts the culture and civilization of the Iranian people who have had an adventurous past, and on the other, repeats the silent tears of oppressed people who worked hard instead of the rulers, could show off their arrogance and power with their gold and jewels.
The value of the objects in the Treasury of National Jewels is not limited to their economic value, but is also a reflection of the creativity and taste of Iranian craftsmen and artists over the different eras of history, and represents the artistic and cultural heritage of the vast country of Iran.
ABU/AM