Ayatollah Khamenei receives girls coming of age
February 4, 2023 - 19:52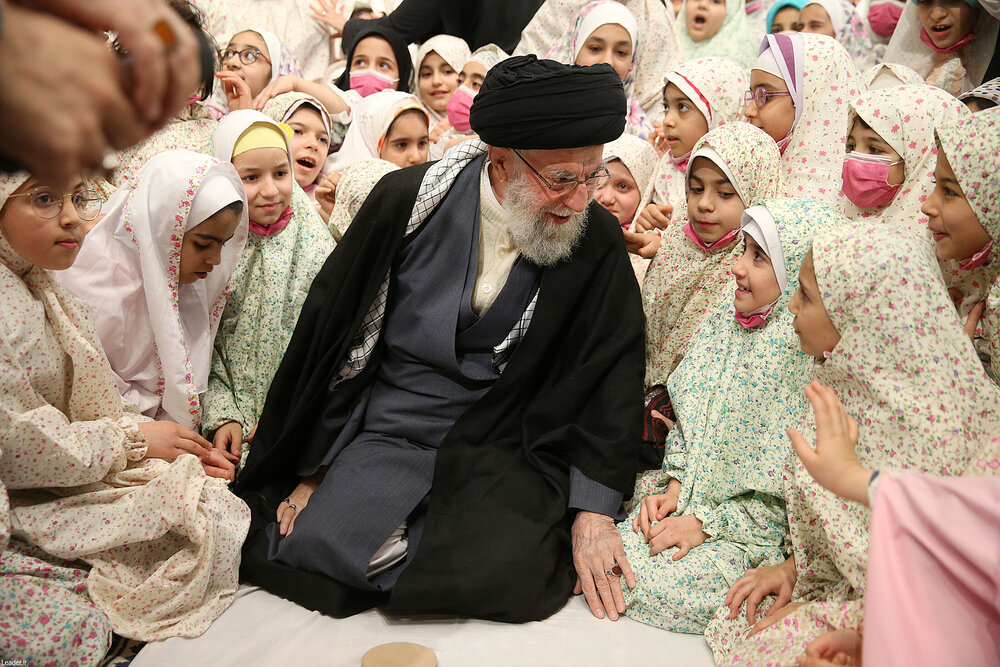 TEHRAN – Leader of the Islamic Revolution Ayatollah Seyed Ali Khamenei received a group of young girls on Friday to jointly cherish the Taklif Celebration. 
The Taklif Celebration is held to celebrate the age at which young girls and boys come of age in terms of observing religious obligations. In Islam, this age is 9 for girls and 15 for boys.
In the meeting, Ayatollah Khamenei congratulated the young girls on their Taklif Celebration. "My dear children! The Taklif Celebration is a real celebration. It is truly a celebration. It is truly an Eid. Why? Because from the moment you reach the age of being required to carry out your religious obligations, you talk with God and God talks with you. In other words, you are in a position where God will talk with you, He will entrust you with responsibilities, and you will carry out those responsibilities. This is a valuable rank for human beings that people are addressed by God and God talks with them. This is what the Taklif Celebration means that after this you are not a child anymore. You are not a small child," he said, according to khamenei.ir.
The Leader added, "You are now young girls with responsibilities, and you can have an influence on your family, in your school environment, and when you are playing with your friends. You can show others to the straight path and guide them, which is a responsibility that all of us have. A young girl like you who has just reached the age of observing the religious obligations is no different before the Almighty God than an adult woman or an elderly man in terms of the religious obligations."
He noted, "The advice I wish to give you young people, my advice to my dear daughters, is that you become friends with God. Try to become friends with the Merciful God from the start of your youthhood. What is it like to be friends with God? One of the ways of becoming friends with God is when you are talking with God in prayer to pay attention to this that you are talking with God. You are speaking with God. Learn the meaning of the words in the prayers. Learn from your elders and teachers the translation of Surah Al-Hamd, Surah Al-Ikhlas, and what you are saying when you are bowing and prostrating. When you pray, pray in such a way that you are talking with God. This is becoming friends with God. This is one of the ways of becoming friends. Another way of becoming friends [with God] is to be careful to avoid the deeds that He has told you not to do and to do the deeds that He has said you should do. This is the way to become friends with God. Today, you have bright hearts. You have shining hearts. You have pure hearts. Become friends with God from today."