Painter Hassan Ruholamin holds workshop at Russian State University of Cinematography
February 21, 2023 - 18:31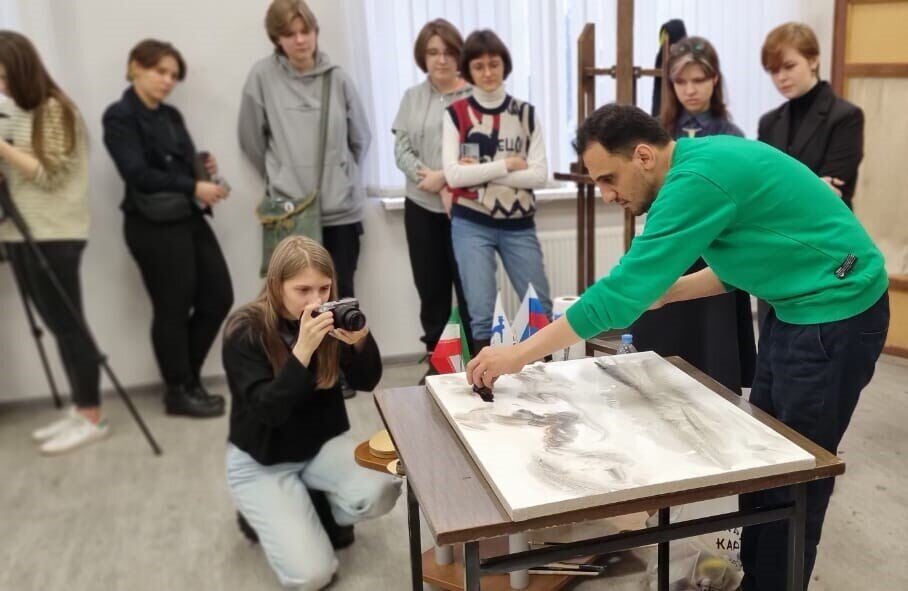 TEHRAN – Iranian artist Hassan Ruholamin, who is best known for his paintings of stories from the history of Islam, has held a workshop at the Russian State University of Cinematography (VGIK) in Moscow.
The workshop was organized at the invitation of VGIK rector Vladimir Malishev, Iran's Islamic Culture and Relations Organization announced on Monday.
Students from the VGIK branch in Tashkent, Uzbekistan, also attended the workshop online.
During the workshop, Ruholamin produced a painting and also completed another work he had begun a day before at the Museum of Oriental Art in Moscow, which is hosting his exhibition, "Painting of the Heart".
He explained his style and how he uses his imagination to produce his artworks.
The workshop was followed by a Q&A session, during which he illustrated the impacts of his religious beliefs on his artworks in response to a question from a student.
The Museum of Oriental Art in Moscow is currently organizing an exhibition of paintings by Ruholamin, which opened on February 4.
Speaking at the opening ceremony, he said the main theme of the exhibit is the character of Hazrat Fatima (SA), the Prophet Muhammad (S), Imam Ali (AS) and their children and added, "We believe that truth and guidance belong to them."
"As a member of the Iranian art community, I want to share my love of this household through my works and I hope I will be successful in this task," he noted.
The workshop at VGIK was part of a program arranged on the sidelines of the exhibition, which will run until March 26.
In an introduction published on its website, VGIK is called the world's first film school, which is an international educational institution both historically and traditionally.
"Over 3000 specialists for the CIS countries and 1300 for 75 foreign countries have been trained within the years of its existence. Some of these specialists were among the founders of national film schools in their countries," the university added.
Photo: Iranian artist Hassan Ruholamin (R) holds a workshop at the Russian State University of Cinematography (VGIK) in Moscow.

MMS/YAW