Arabic editions of children's books by Iranian writers offered at Muscat fair
February 28, 2023 - 18:37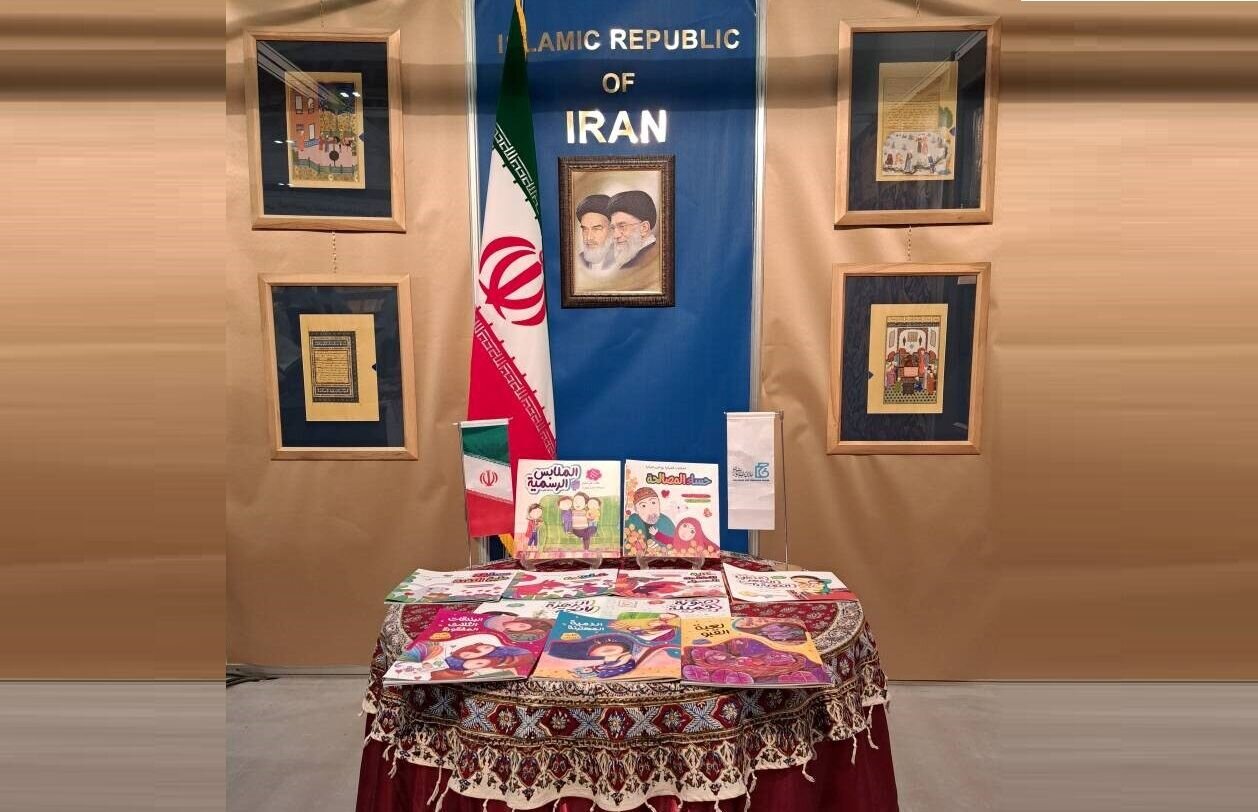 TEHRAN – Arabic editions of eleven children's books by Iranian writers were introduced during the Muscat International Book Fair currently underway at the Oman Convention and Exhibition Center.
The books written by Claire Jobert and Ali Babajani are based on stories and teachings from the Holy Quran.
Among the books are Jobert's "Red Apple", "Problem-Solving Soup" and "Meatball Competition".
The collection also includes her trilogy "Thanksgiving" comprising "Deformed Doll", "Three Missing Hazelnuts" and "Underground Playing".
Containing three stories, "Deformed Doll" teaches children to thank God for peace, contentment and faithfulness to promise.
"Three Missing Hazelnuts" also contains three stories. The first story is about God's power in creating colors in nature.
The second story is about respect for nature and the protection of the environment, and the final one informs of laughter and crying as God's blessings that help achieve serenity.
In "Underground Playing", Jobert intends to teach children to acknowledge God's will for the diversity of foods and help them to live with hope and friendship.
"A Nice Photograph", "A Blonde Doll", "Scent of Flowers" and "Party Dress" from Babajani's ten-volume series on hijab were also introduced in the book inauguration event at the Muscat fair.
The collection follows a little girl namely Hannaneh in different stories.
The Iran Book and Literature House represents Iranian publishers at the Muscat International Book Fair, which will run until March 4.
Over 800 titles on art, literature, Iranian studies, philosophy, and Islamic studies from 40 Iranian publishing houses are on view at the exhibition.
The Muscat fair has been launched since its first stages until today with rapid steps of development and expansion.
Since its launch in 1992 and until this year, the exhibition has registered an upward index on several levels, including the number of participating countries, the number of participating publishing houses, spaces and public attendance.
The idea of establishing an international book fair in the sultanate as a cultural, intellectual and awareness project came in response to the need of the cultural knowledge arena in the sultanate to establish a book fair as book exhibitions are one of the most essential information tools to gain knowledge and highlight intellectual production.
Photo: Arabic editions of eleven children's books by Iranian writers are on view at Iran's pavilion during the Muscat International Book Fair, Oman.
MMS/YAW