Belarus Ambassador visits Naderi Garden in Mashhad
April 28, 2023 - 20:0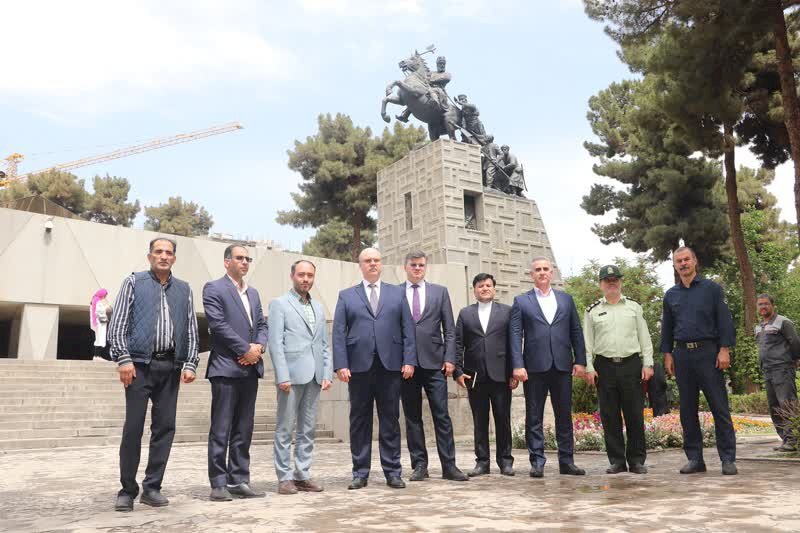 TEHRAN – Ambassador of Belarus to Tehran Dmitry Koltsov on Wednesday visited Naderi Garden in Mashhad, northeastern Khorasan Razavi province. 
The envoy also visited an exhibition of Iranian handicrafts, where he learned more about the nation's arts and culture, CHTN reported on Friday.
Located in downtown Mashhad, Naderi Garden is of high importance for embracing the tomb of Nader Shah Afshar, one of the few post-Islamic Iranian kings who accomplished Iran's independence and solidarity.
The tomb was designed and built by Iranian prominent architect, sculptor, and painter Hooshang Seyhoun. A 6.5-meter bronze sculpture of Nader Shah mounted on a horse with three soldiers standing next to the horse was created in Rome, Italy. The sculpture was then transported to Mashhad and placed on its pedestal. The sculpture was designed by Abolhasan Seddiqi and bronzed at Berotti Factory in Italy.
The capital city of Mashhad is home to the holy shrine of Imam Reza (AS), the eighth Shia Imam, which attracts thousands of pilgrims from various Iranian cities, neighboring countries, and even across the globe.
Dozens of five-star hotels and hostels are dotted around the holy shrine. The metropolis has the highest concentration of water parks in the country, and it also embraces a variety of cultural and historical sites that are generally crowded.
ABU/AM