"Starvation" star Alireza Mehran named best at Transparent Film Festival
May 10, 2023 - 18:3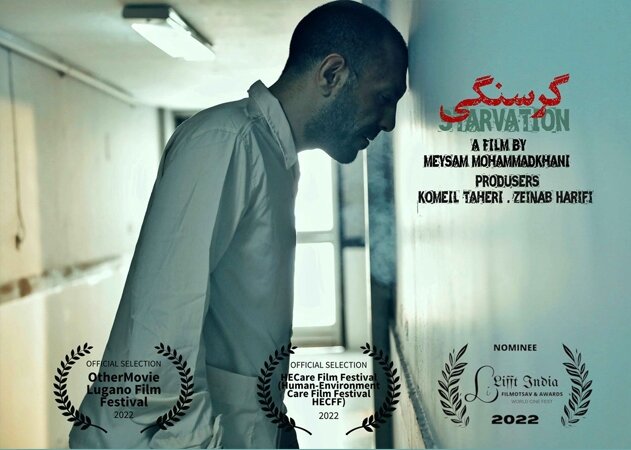 TEHRAN – Alireza Mehran, the star of "Starvation", has been picked as best actor for his role in the Iranian short drama at the Transparent Film Festival in New York.
He portrays a father who is unable to cope with life's problems and takes it out on his family.
Meysam Mohammadkhani is the director of the film also starring Nasim Adabi and Mohammad Musavi.
The winners of the Transparent Film Festival, which is among the top 100 best-reviewed festivals, were announced last week as "Flash/Crash" by Dutch director Angelo Perez Lebbink won the award for best foreign film.
In the film, a down-on-his-luck drug addict seeks forgiveness and salvation from an alienated prostitute in need.
The award for best short was given to "Chinese Laundry" by Giorgio Arcelli from Italy.
It follows Mong who just moved to New York from China to take over the family laundry shop. Both her professional and social lives are affected when she finds out about an affair happening in the building where she works.
The American movie "Stranger in the Woods" by Adam Newacheck won the best feature film award.
Newacheck and writer Holly Kenney explore the consequences of victim blaming and shaming in the psychological thriller. It reminds the audience that friends can add to the problem when they do not believe nor heed a victim's story.
Kenney, who also stars in the movie, was selected as best actress.
Sabine Crossen from France was named best director for her film "Welcome to Candy's".
In the film, like in a fairy tale, it only took one glance for Etienne to fall head over heels in love with Candy. When she invites him home for a drink, he discovers that this pretty influencer with a vivid imagination did not invite him just by chance. But is Etienne ready to play Candy's strange little game?
Photo: A poster for "Starvation" bears an image of Alireza Mehran in the short film.
MMS/YAW