Book on R. L. Stine, writer of horror stories for children, published in Persian
May 10, 2023 - 18:6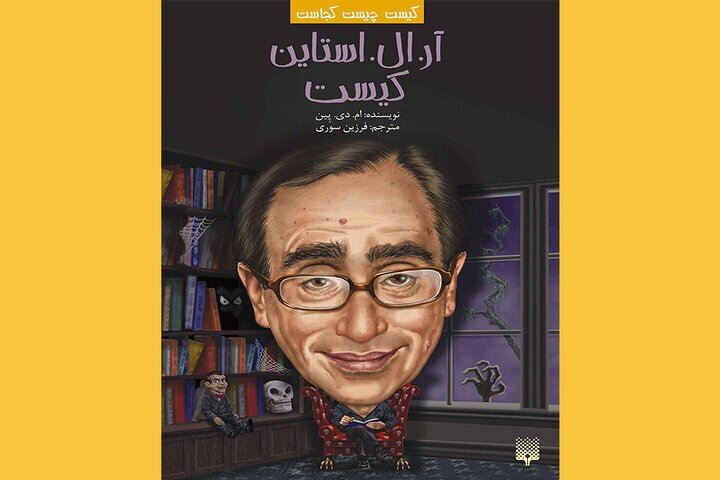 TEHRAN – M.D. Payne's book "Who Is R. L. Stine?" on the American novelist R. L. Stine who was best known for his horror books for children, has been published in Persian.
First published in 2019, the book was translated into Persian by Farzin Suri. Peydayesh is the publisher of the Persian edition.
Reader beware! The biography of R. L. Stine, author of the hugely popular Goosebumps series, is a scary-good time!
R. L. Stine began writing stories at the age of nine, after finding a typewriter in his family's attic. (Was it a haunted typewriter? Who can be sure?)
Often referred to as the "Stephen King of children's literature", R.L. has created some of the scariest books to have ever been passed around a campfire, leaving readers wide awake at night.
With over 400 million copies of his horror fiction novels sold across the world, R.L. Stine is one of the best-selling authors in history.
Payne was born in 1978 in New Hampshire to an Air Force family and grew up in 11 different homes in Maine, California, Idaho, Florida, Virginia, Ohio and Germany.
As a child, he was a ravenous reader. While in elementary school, his favorite past-time was creating cut-and-paste scrapbooks of presidential facts that remain in his mother's possession today.
M. D. has been a fan of Halloween and horror into adulthood, so he jumped at the chance to write marketing and creative copy for the famed Goosebumps series in 2007, and was soon pulled into the world of Kidlit.
He wrote his first books, the gross-out horror series Monster Juice, from 2012–2014, and then became involved in the NY Times bestselling Who Was series, tackling spooky titles like "Who Is R. L. Stine?" and "What is the Story of Scooby-Doo?"
Before M. D. was a writer, he was a jazz DJ, wrote scripts for jazz at Lincoln Center Radio, and was associate producer on Essentially Ellington recordings and public radio programs such as "Honky Tonks, Hymns, and the Blues" and "W.C. Handy's Blues".
He took that decade of experience and poured it into the Who Was book on jazz legend Duke Ellington. "Who Was Duke Ellington?" was published in 2020.
A fan of kids, reading and especially kids who read, M. D. gives presentations on reading and writing to children and parents alike at numerous schools around the country and around the world via Skype. He lives in New Jersey with his wife and two daughters.
Photo: Front cover of the Persian edition of M.D. Payne's book "Who Is R. L. Stine?"
MMS/YAW