Winners of 1st Qand-e Parsi Awards honored
May 14, 2023 - 18:51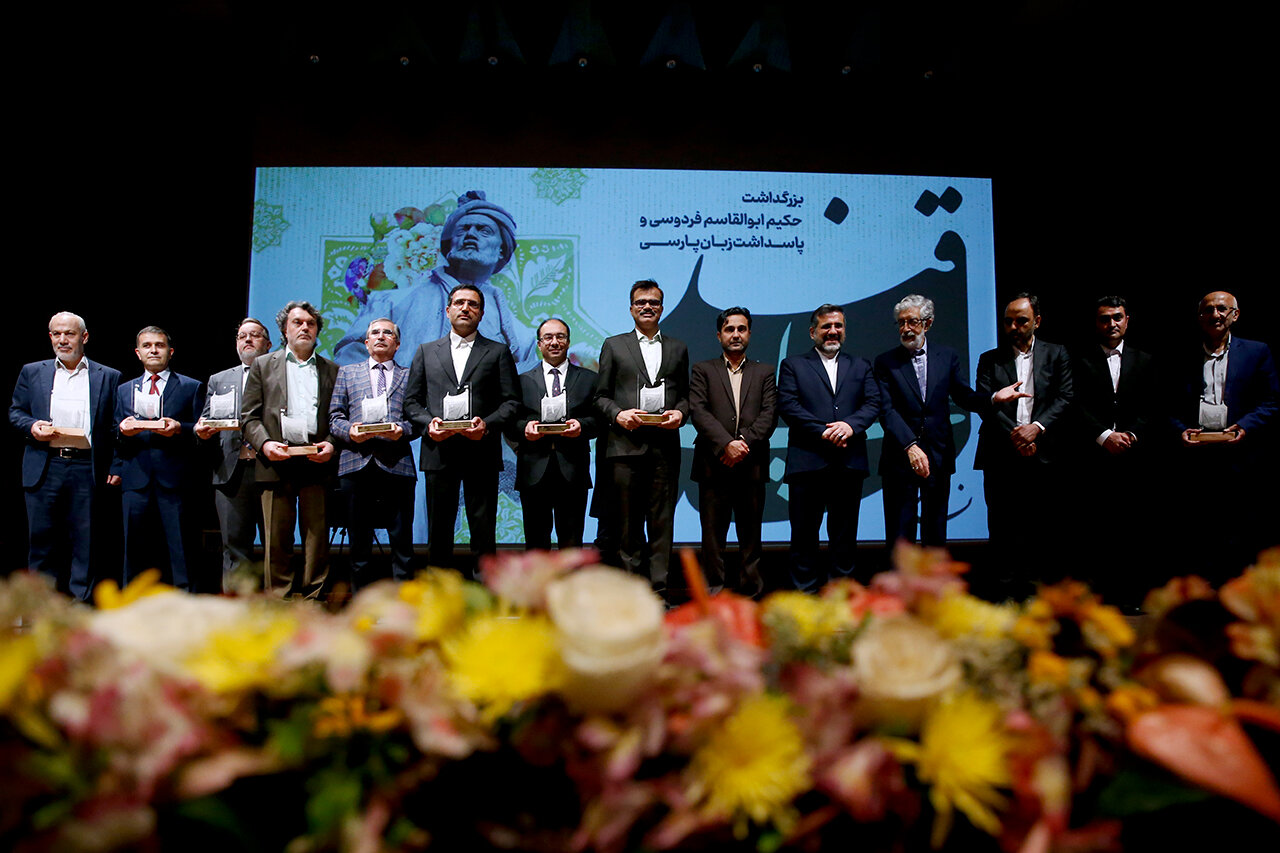 TEHRAN – Winners of the first edition of the Qand-e Parsi Awards were honored at Tehran's Rudaki Hall on Saturday.
The awards event has been launched by the Ministry of Culture and Islamic Guidance to honor foreign personalities and Iranian expatriates promoting the Persian language.
The awards ceremony is scheduled to be organized annually as a prelude to Ferdowsi and Persian Language Commemoration Day on the Iranian calendar.
Among the honorees were Turkish Ambassador Hicabi Kirlangic, Rahmonali Miralizoda from the Culture Ministry of Tajikistan, Armenian Ambassador Arsen Avagyan and Indian cultural attaché Balram Shukla.
In addition, Russian counselor Mikhail Fedorov, ECO Cultural Institute president Murodjon Buriboev, Palestinian cultural activist Nasser Abu Sharif and the director of Bahar-e Afarinesh Institute in Guinea, Davud Hosseini, were also honored.
Speaking at the ceremony, Balram Shukla called the Persian language and Persian culture parts of life in India.
"We must protect the Persian language in order to achieve an awareness of ourselves and maintain our identity," he noted.
Balram also read an excerpt from his preface to his Sanskrit translation of the Shahnameh, the magnum opus of the Persian poet Ferdowsi.
The ceremony went on with a screening of a video depicting the status of Persian language courses in Russia and Poland.
A performance of an anthem about the Persian language by an Afghan group was the next part of the ceremony.
Academy of Persian Language and Literature director Gholam-Ali Haddad-Adel also delivered a speech.
"Ferdowsi takes the center stage when we are talking about Iranian identity; wherever the Persian language is discussed, Ferdowsi is the guardian of the Persian language," Haddad-Adel said.
"Iranians feel proud when they see that his book, the Shahnameh, with more than a millennium of history and over 60,000 verses, is still read and understood by everybody," he added.
"Perhaps no literary work from any other culture is able to enjoy such popularity in its homeland," he noted.
He said, "Iranian history and the Persian language are deeply indebted to the Shahnameh, which is a great source of inspiration for literati and poets. This book is full of wisdom, and with its appealing and steady language finds its way into everybody's heart. Accordingly, the Supreme Council of Cultural Revolution decided the same day to celebrate Ferdowsi and the Persian language."
The 25th of Ordibehesht is Ferdowsi and Persian Language Commemoration Day on the Iranian calendar. This year's celebration for the day falls on May 15.
Photo: Honorees and the organizers pose during the first edition of the Qand-e Parsi Awards at Tehran's Rudaki Hall on May 13, 2023. (IRNA/Marzieh Soleimani)
MMS/YAW