Iran unveils new nuclear advances
April 8, 2016 - 19:52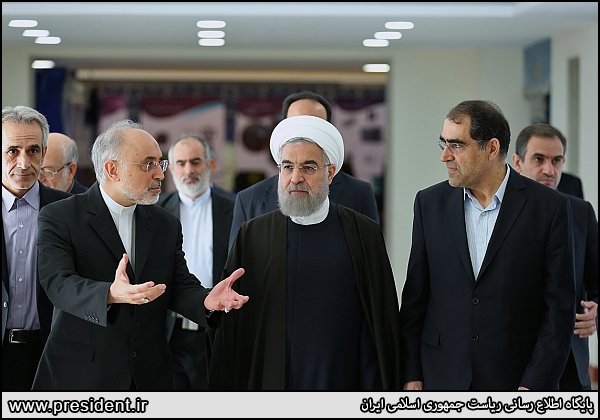 TEHRAN - President Hassan Rouhani unveiled on Thursday new advances in nuclear technology to mark National Nuclear Technology Day.
Among the advances were two domestically-made zonal and ultra centrifuge machines.
Zonal centrifuges have medical applications, mainly used to produce vaccines for rabies, influenza, hepatitis B, and meningitis. One more use of the machines is in gene therapy.
Ultra centrifuges, optimized for spinning a rotor at very high speeds, have applications in biology and biochemistry such as separating cells organelles.
Among other advances were nuclear fuel assemblies equipped with testing devices for power reactors.
Also, the president put online the Pasmangoor nuclear waste facility in Isfahan via video-conference.
Radioactive waste from nuclear sites and research departments are to be managed and processed in the center.
It is the 10th year in a row that Iran is marking National Nuclear Technology Day.
This year's version has the distinction of being held after Iran and the 5+1 countries reached a landmark agreement on Tehran's nuclear program, dubbed as the Joint Comprehensive Plan of Action.
Under the deal, Iran is committed to curb its nuclear activities in exchange for international sanctions relief.
Although the country was under sanctions over the past years and risked seven UN resolutions before the deal was achieved, Iran has made remarkable progress.
From being a pure importer of nuclear commodities, Iran has turned out to be an international exporter, with selling its produced heavy water to U.S. as a case in point.
Also, in the ceremony Ali Akbar Salehi, the vice-president and director of the Atomic Energy Organization of Iran (AEOI), said nuclear advances make inroads into the agriculture sector through supplying water.
According to Salehi, high on the AEOI agenda is to construct desalination facilities as well as turn Iran into a radiopharmaceutical hub in the Middle East.

AK/PA