'Drive between the lines' campaign calls for safe driving
April 16, 2016 - 19:3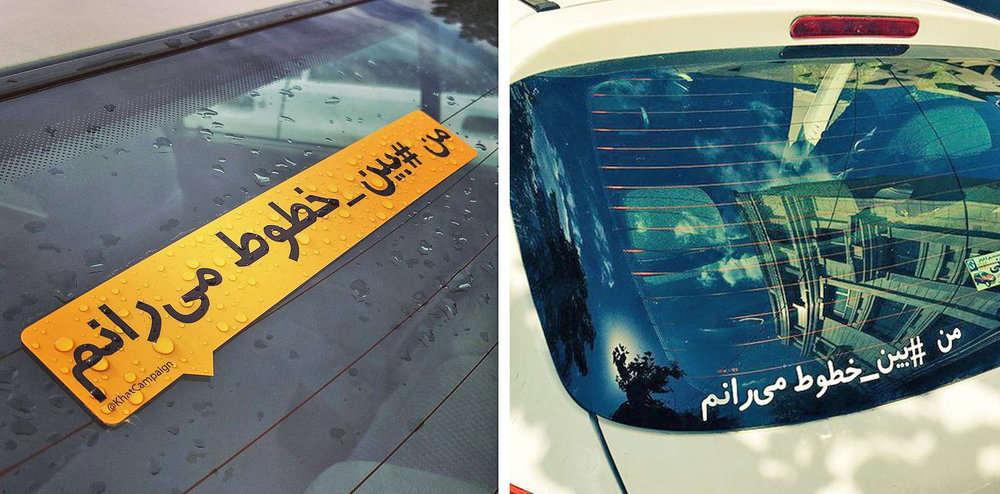 TEHRAN — Initiating not very long ago, 'drive between the lines' campaign, which calls for safe driving, is a spontaneous move that has its roots in social networks.
The campaign which initially began in twitter and then gained strength in Instagram and Telegram asks drivers to stay between the lines while driving to avoid any chaos and accidents.
Siavash Kashmiri, a 25-year-old guy and one of the main contributors to the campaign told ISNA news agency that the campaign first set off in February 2016.
"Our main goal was to print stickers and paste them on the rear windshields of the cars with the sentence 'I drive between the lines' written on them," Kashmiri explained.
"We started our activities in Instagram and telegram with 'khatcampaign@' account and with the '#I_drive between the lines' hashtag asked the users to support us," he added.
"Soon we built up a great reputation among the users in the virtual world," he noted, adding "unfortunately we didn't have any sponsors to support us financially so we asked users themselves to print out the stickers which was warmly welcomed."
"So far we have ordered 5,000 stickers which will be printed within 2 days and will be distributed in Book City branches, book stores and some coffee shops in Tehran," Kashmiri said.
He further pointed that some of the printing presses have expressed readiness to print stickers for free and "some of the actors and actresses are also helping us to reform our traffic behaviors."
So far, the cities of Gorgan, Mashhad, Kermanshah, and Tehran have taken part in the campaign.
An official with Tehran's traffic police also voiced police approval for this spontaneous movement and expressed hope that such movements would bring order and structure to the traffic in the city.
Colonel Eynollah Jahani explained that driving between the lines both reduces traffic and the probability of car accidents, as 10 percent of the car accidents result from not driving between the lines.
"As we believe that two parallel lines never meet, cars which move between the lines never collide," Jahani highlighted.
MQ/MG