Iraqi PM calls for arrest of parliament protesters
May 2, 2016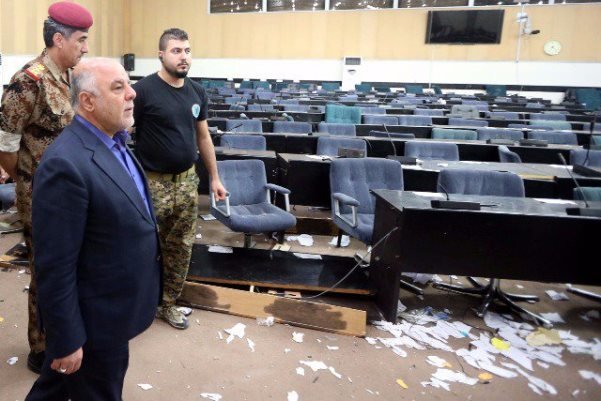 Iraqi Prime Minister Haider al-Abadi has called for the arrests of protesters who stormed the parliament, clashed with police and broke the barricades of Baghdad's heavily-fortified Green Zone.
Abadi's statement on Sunday came a day after hundreds of followers of the influential Shia cleric Muqtada al-Sadr tore down blast walls and poured into the parliament building, exacerbating a long-simmering political crisis.
------ Iraq crisis deepens with storming of parliament

Videos on social media showed a group of young men surrounding and slapping two Iraqi legislators as they attempted to flee the crowd, while other protesters mobbed motorcades.
Protesters were also seen jumping and dancing on the parliament's meeting hall tables and chairs and waving Iraqi flags.
The protesters eventually left the parliament on Saturday night and rallied in a nearby square.
Sadr and his supporters want the political system, put in place following the United States-led invasion in 2003, to be reformed.
As it stands, entrenched political blocs representing the country's Shias, Sunnis and Kurds rely on patronage, resulting in widespread corruption and poor public services. The major blocs have until now blocked Abadi's reform efforts.
On Sunday, protesters vowed to continue their sit-in inside the Green Zone until their demands are met.
Iraqi security forces initially responded to Saturday's events by tightening security across the capital, sealing off checkpoints leading to the Green Zone and stopping traffic on main roads into the city.
The United Nations mission to Iraq said it was gravely concerned. It issued a statement condemning violence against elected officials and urging "calm, restraint and respect for Iraq's constitutional institutions at this crucial juncture".
-------- 38 killed, 86 injured in twin car bombs in Iraq
Elsewhere, at least 38 people were killed and 86 others injured in two car bombs in the southern Iraqi city of Samawa, security and medical officials say.
A police official said the first explosion took place around midday on Sunday near government offices in the center of Samawa, while the second blast occurred minutes later at a bus station in an open-air area.
"The hospitals have received 33 dead," AFP quoted a senior official in the Muthanna health department, which covers Samawa, as saying.
Samawa, a Shia-dominated city, is located some 370km south of the Iraqi capital, Baghdad.
The official also noted that the death toll from both blasts is expected to rise. A medical official also confirmed the number of casualties.
Online photographs showed huge plumes of smoke rising above buildings and a number of burnt out cars and bodies lying on the ground at the site of the first attack.
The Islamic State in Iraq and the Levant (ISIL/Daesh) terrorist group claimed responsibility for both attacks.
Iraq has been mired in political crisis for months, hindering the government's ability to combat the ISIL terrorist group, which still controls much of the country's north and west, or address a financial crisis largely prompted by the plunge in global oil prices.
(Source: agencies)