Iran invites all factions in Iraq to settle differences
May 2, 2016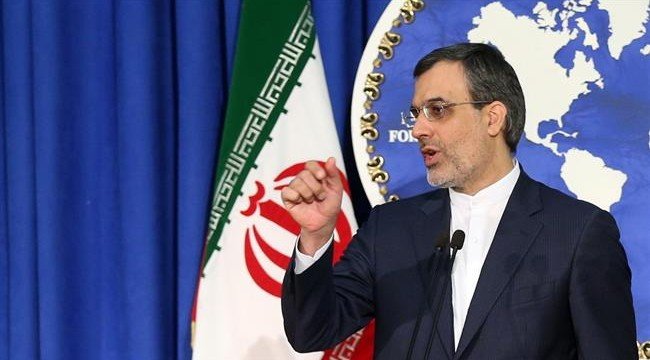 THERAN – Iran encourages all political factions in Iraq to set aside different views and get engaged in dialogue in order to reach a political understanding.
Making the remark in his weekly press conference, Foreign Ministry spokesman Hossein Jaberi Ansari said efforts should be made on "fighting corruption and terrorism" in Iraq.
Iraq has been the scene of political turmoil in the past weeks over Prime Minister Haider al-Abadi's efforts to form a new cabinet.
On April 26, the parliament finally endorsed six new ministers proposed by Abadi despite attempts to block the chamber meeting by about 100 deputies who are reportedly close to former Prime Minister Nouri al-Maliki and opposed to Abadi and Parliament Speaker Salim al-Jabouri.
In recent days, protesters stormed the parliament building in Baghdad's Green Zone, demanding that lawmakers approve the proposed technocrat government.
The protesters also called for the resignation of Iraqi president, prime minster and parliament speaker.
S. Arabia will be to blame if Iranians don't get visa for hajj
On issuing visa to Iranian pilgrims to visit Saudi Arabia for hajj ritual this year, Jaberi Ansari said if Iranian pilgrims don't receive visas for hajj this year, Saudi Arabia will be the one to blame.
The spokesman added dialogues between Iran and Saudi Arabia have already begun in this regard.
Although the Saudi government has claimed that decision made on the future of visa issuance for Iranian pilgrims is not politically oriented, the evidence suggests otherwise, the Iranian official noted.
There is a big gap between what Saudi Arabia says and what it does, he said. "What the Saudi government is doing only intensifies the regional crises."
Reestablishing Iran-Canada political ties time-consuming
Elsewhere Jaberi Ansari said resuming diplomatic ties between Iran and Canada will take time; although the two states have already had their first meeting in New York.
Blaming Canada for cutting ties with Iran a few years back, the official said after the implementation of the Joint Comprehensive Plan of Action (JCPOA), the new Canadian government expressed interest in reestablishing political ties with Iran.
And since the new government in North America has changed political tact towards Iran, "Iran replied positively," he remarked.
Iran welcomes reopening of Irish embassy
On whether Ireland is going to reopen embassy in Tehran, the official said Ireland closed down its embassy in Tehran back in 2011 due to financial difficulties.
At this stage, the official said, "We too have also heard the news through media outlets but have yet to receive an official request from the Irish government. "Iran welcomes reestablishment of Irish embassy in Tehran, should the Irish government decide to do so."
The official also said Iran and Turkey as two neighbors have long history of relationship and regardless of holding different views on some issues, the two sides try to resolve the regional crises.
"We hope that the mutual understanding between the leaders of the two countries will pave the way for resolving issues."
'Tehran will do its best to resolve problems of Iranian refugees'
Jaberi Ansari the said that the Iranian Foreign Ministry has held talks at consular level with each country involved with the Iranian refugees, promising that Iran will do its utmost to resolve the problem.
He expressed regret that some countries have left a very negative image of refugees on their citizens, leading them to mistreat refugees.
He then called the recent bitter incidents of Iranian refugees in some counties "painful" and hoped that Iranian citizens get to live a better life in their own homeland.
On April 29, a young Iranian asylum seeker set fire to himself to protest Australia's policies toward people who try to reach its shores by sea. He died from his injuries on Friday.
By Marjan Golpira