Rouhani: Iran, Turkmenistan gateways to Persian Gulf, Central and East Asia
May 8, 2016 - 10:42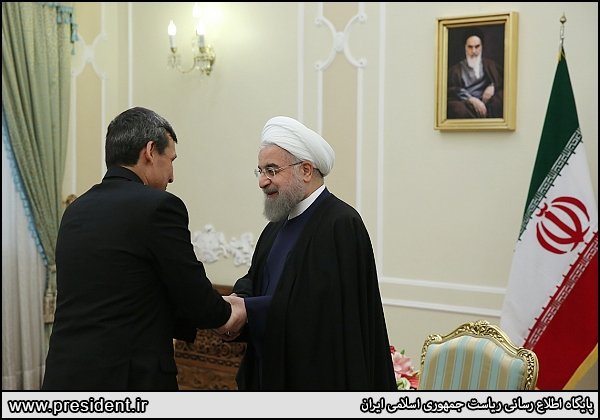 TEHRAN – President Hassan Rouhani said on Saturday that it is essential that Iran and Turkmenistan, due to their geostrategic locations, expand relations.
Iran as a gateway for linking Central Asian countries to the Persian Gulf and the Seal of Oman and Turkmenistan as a route for access to Central Asia and even East Asia should make efforts to strengthen cooperation, Rouhani said during a meeting with Turkmen Foreign Minister Rasit Meredow in Tehran.
Rouhani added, "Iran and Turkmenistan have had successful joint cooperation which should be expanded in line with serving the interests of the two nations and developing regional cooperation."
Iran and Turkmenistan share sea and land borders. The two countries are also linked by a railway system which extends to Central Asia.
Rouhani said the Caspian Sea's capacities should be used to expand ties.
Iran and Turkmenistan should have "good cooperation" on environmental issues especially, he added.
Rouhani also called for expanding cooperation in fighting terrorism, extremism and drug trafficking.
Meredow called for expansion of cooperation in various spheres given affinities between the two neighboring countries.
Zarif says some regional countries fuel extremism
During a separate meeting with the Turkmen foreign minister, Iranian Foreign Minister Mohammad Javad Zarif said some countries in the Middle East region spread extremism and fuel sectarianism.
Zarif said that there are "good opportunities" for both countries to expand cooperation in fighting terrorism, extremism and violence.
He said that consultations among the senior Iranian and Turkmen officials have created "new capacities" to expand ties.
The Turkmen official said that the two countries are determined to expand cooperation.
Meredow also called for more consultations on the issue of drug trafficking.
NA/PA