Europeans see huge potential, opportunities for post-sanctions Iran
May 9, 2016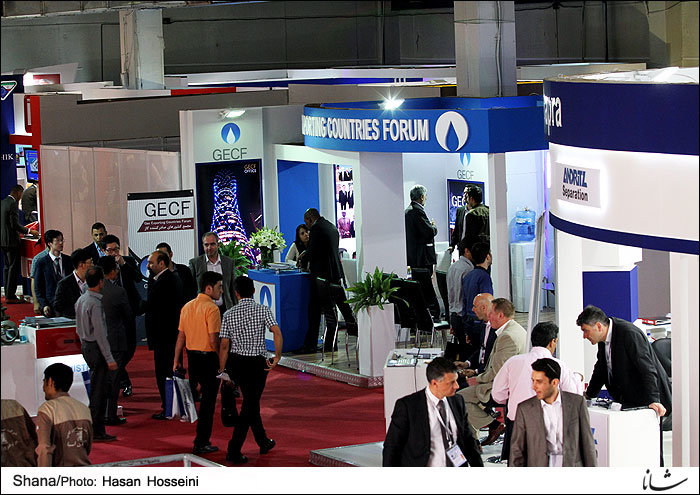 European companies participating in the 21st International Oil, Gas, Refining and Petrochemical Exhibition of Iran (Iran Oil Show 2016) believe that the Iranian market enjoys huge potentials and offers many opportunities in the post-sanctions time.
By Mahnaz Abdi
European companies participating in the 21st International Oil, Gas, Refining and Petrochemical Exhibition of Iran (Iran Oil Show 2016) believe that the Iranian market enjoys huge potentials and offers many opportunities in the post-sanctions time.
The event, which was the country's first oil show in post-sanctions era, was attended by more than 900 Iranian exhibitors and above 800 renowned international companies from 38 countries across the globe. It was held from May 5 to 8 at Tehran Permanent International Fairground.
'Sanctions removal, a big opportunity for Iran to grow faster'
"Sanctions removal is a big opportunity for Iran to grow faster with a lot of resources it has inside the country on one hand, and on the other hand it is a big opportunity for us, because there is a lot of needs in goods and equipments in Iran, so we can do now what we could do before we had all these restrictions," Rudolf Opitzer, the managing director of Germany's UIC GmbH, a leading global supplier of systems and components for the gentle distillation of liquid mixtures, told the Tehran Times.
"It's a great exhibition. I really enjoyed it," the German exhibitor said about Iran Oil Show.
'Iran looks promising after sanctions'
Daniel Sparr, the product manager in Bertsch Energy, an Austrian service supplier to the power plants and processing industries, believes that now that the sanctions are being removed, the status of Iran looks very good and promising. "We have an agent here and they tell us about a lot of projects which are going on, so we are very hopeful and we think that Iran is on the right way."
"While financing is a little complicated in Iran, there are a lot of refineries here and it is promising for us," he noted.
'Iran's biz opportunities not gone during sanctions'
Jan Willem Hendriks, the managing director of the Netherlands' TSS Company, which designs, engineers and supplies solar power systems for the oil and gas industries, asserted, "Even before the sanctions there were of course a lot of opportunities in Iran. There were only barriers to do business. So, the opportunities haven't gone. They have become only inaccessible. So, now we can only start to work on it again. For us, there is a lot to do in Iran."
Hendriks, who participated in Iran Oil Show for the third time, said this edition is much bigger. "This year there is a big variety of companies, not only Iranians, as obvious, but also foreign companies."
"Iranian oil and gas sector offers us a lot of possibilities," he said, explaining that his company intends to train people in Iran on their systems, so their investment will be on the people first, and then they will see what they can use on local facilities for their systems.
'Iran starts to be an intl. player in oil, gas fields'
Roberto Camporesi, the technical-sales manager of Tecniwell, an Italian manufacturer of pumps for civil engineering and oil fields, said that by sanctions removal Iran has started to be an international player in the oil and gas fields.
He believes that in the next few years, there will be many opportunities to do something good together with Iranian people.
The Italian manager described the oil show as very interesting with many exhibitors and said they will come again for sure.
'There is huge potential in Iranian market'
Benoit de Bouvet, the South East Asia and Middle East manager of CATU, a French manufacturer of electrical safety equipment founded in 1919, who was participating for the first time in Iran Oil Show, described the event as very good and said they have got very good response from national oil and gas companies as well as cement companies and they are happy with the feedbacks.
"The potential in Iranian market is huge, so we are very interested in coming to Iran. The only problem at the moment is with the banks," the French exhibitor commented.
'World to see more imports from Iran in post-sanctions time'
Michael M. Hartung, the head of sales, marketing and commercial project management of RENK MAAG, a Swiss manufacturer of high-speed gearboxes and couplings for the oil and gas and power industries, stated, "I see a great potential in Iran, there is 80 million people, you have lots of good products and with the sanctions being lifted I can foresee that the world will be able to import more from Iran, being oil and gas or petrochemical products, being cars produced in Iran or IT technology, I can foresee that."
'Iran Oil Show 2016, best ever edition of event'
Josè Maria Asin, a Spanish exhibitor who has participated in 15 editions of Iran Oil Show, said, "I think it is probably the best edition with more exhibitors and more interest specially from European companies in exploring the big amount of opportunities the country is offering now."
"With so many projects to be implemented in the coming years, every body's interested, so we are all coming to Iran and would like to get more cooperation with the Iranian companies," he mentioned.
Asin, who is the managing director of Spain's Babcock Valves, a leading European manufacturer of valves with 27 years of presence in Iran, referred to the problems related to the banking system as the main obstacle for business in Iran; although he noted that the private sector has been able to overcome the difficulty, as it has done already during the sanctions period.
"Public companies still need some measures to activate the banking systems. I think there are some limitations, but I think they will be resolved and everything will come to the normal condition soon, especially by the end of this year. November and December will be critical months, so that everything will be stable and normalized in my opinion," he commented.
"Iran will play a prominent role in the world in the next decades. I think Iran will change a lot in a positive way and we have to be present here," the Spanish director highlighted.