By Mahnaz Abdi
Europeans see huge potential in Iran's energy market
May 9, 2017 - 19:55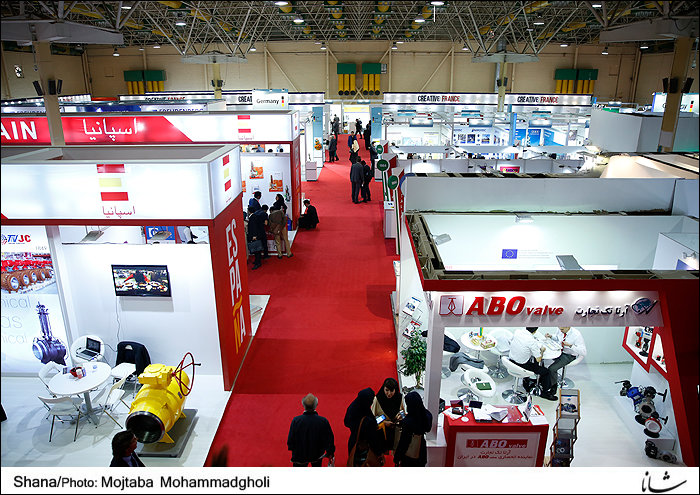 TEHRAN- European exhibitors participating in the 22nd International Oil, Gas, Refining and Petrochemical Exhibition of Iran (Iran Oil Show 2017) believe that there is huge potential for business in Iran's oil, gas and petrochemical sectors.
The exhibition, which was held at the Tehran Permanent International Fairgrounds from May 6 to 9, hosted some 2500 domestic companies and 1500 foreign participants from 37 countries including Germany, France, Spain, Britain, Italy, Austria, the Netherlands, China, South Korea, Australia, the U.S. and Canada.
To find out the viewpoints of European companies willing to do business in Iran, the Tehran Times conducted interviews with a number of European participants of the exhibition which is among the most significant oil and gas events in the world in terms of the number of exhibitors and its diversity.
'High potential, possibilities for growth'
Edwin Chen, head of global projects division in Buhlmann Group, a German premium distributor specializing in steel pipes and tubes, pipe-fittings and accessories with global operations, said that there is high potential and possibilities for growth in the Iranian market, "There are many resources and we're really seeing thing are moving forward ."
He said that it was his first time of participation in Iran Oil Show, but his company has visited the exhibition several times.
Asked about his evaluation of the exhibition, the German participant said: "It is interesting and I would really say that it's a very big concentration for everyone related to oil industry. We really do see different sectors which come from the end users to the beginning of the supply chain and this is not really common in other parts of the world. So normally we don't have this full package in defined sectors."
When it came to the concerns for business activity in Iran, he said: "Of course, the political situation for Europeans is a very sensitive topic, because we would like to have a long-term business, however due to the political situation it would definitely affect financial state of having correspondence with our Iranian customers and it will result in some kind of uncertainty."
Describing Iranian market, another first-time German participant, Raphaël G.D. Murswieck, the business development manager in Oil Dynamics GmbH, a company providing turnkey pumping solutions, said: "There is huge potential, nice people, and nice to be here and provide our solutions."
About the downside of business in Iran, he said: "Maybe the currency issues, for the payments, but in general I don't see many downsides."
'Huge number of opportunities'
Markus Gumplmayr, from the Austrian Chamber of Commerce Headquarters in Vienna, who was the organizer of Austrian pavilion in the exhibition, described the Iranian market in this way: "There is a very young generation, very interested people in innovations, huge number of opportunities in Iran and from this point of view I think it's a very attractive market for everybody."
"There is long historical tie between Iran and Austria and we'll be happy to support Iranians with the high quality products", he underlined.
"We have been here (in the oil show) several times and this is the second time after the sanctions that we are here and we plan to grow and to develop the Austrian pavilion and to enlarge the group in the next year", the Austrian participant stated.
"If I want to evaluate and compare [this edition of the event with the previous editions], I say that people are more open-minded, there are more people interested in talks, business to business talks are interesting, and I hope the contact between Iran and Austria will also be developed in positive way, not only in business bust also in politics", he commented.
"We have 14 companies here in the pavilion and three more individual exhibitors which next time will come to join us", he said and put the number of participants from his country in the previous edition of the event at 10 while they are planning to increase the figure to 20 in the next edition.
'Competitive, progressing market'
G.L. Rangnekar, a director in Italy's VRV, one of the leading global companies in design and manufacture of pressure equipment for petrochemical, refining, energy and fertilizer industries, said: "It's like the [Iranian] market is very competitive, it's progressing. We see Iranian market is a good progressive market and we are committed to this market."
"We have strong presence in Iran. It is the third time we are participating, last two years we were here and we see Iranian market is a good potential business for our group companies", he noted.
Briefing upon their activity in Iran, he said: "There are a lot of petrochemical projects coming up; we see good collaborative ties with the local companies. It's a big market for us."
When speaking about advantages of Iran for their business, the director said: "There are always good potential, good people, technical skills available; people are very open, they know the subject, they are very focused in what they require."
Although he went on to say: "Oil price is always a cause of concern, how market will move, there are many challenges in global scenario, how to overcome those challenges is a maker of debate, but we are always optimistic and I think this market go for sure positively."

'Number of French participants doubled in 2 years'
Agnès Hagyak, the oil and gas project manager in Business France, a big agency in charge of promoting France abroad, who was the organizer of French pavilion in the exhibit, said: "We organized the French pavilion for the third year, so we began in 2015 with a small pavilion with 15 companies, we had 30 participants last year and 35 ones this year."
"We have more companies, many visitors are also coming without exhibiting, so there is the interest of working in Iran and now we wait to see how thing will go", she added.
"After the sanctions are closed we have more companies. In the French pavilion, we have 35 companies, but there are many French companies outside that work already with their Iranian partners, so they don't need us to come in the Iranian market, because they have already partners", she explained.