Iranian officials offer condolences to Hezbollah over loss of top commander
May 14, 2016 - 19:2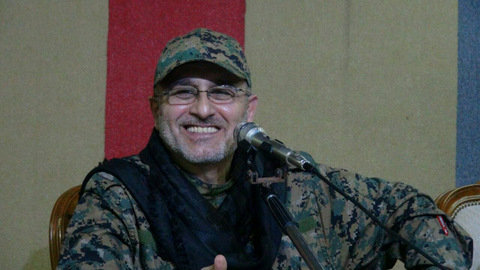 TEHRAN – Senior Iranian officials have been offering their condolences to Hezbollah over the martyrdom of its top commander Mustafa Badreddine over the past days, showing strong ties between the movement and Iran.
Hezbollah's top military commander Mustafa Badreddine was martyred in a blast at a base near Damascus airport on Friday by artillery shells.
"Investigations have showed that the explosion, which targeted one of our bases near Damascus International Airport, and which led to the martyrdom of Commander Mustafa Badreddine, was the result of artillery bombardment carried out by takfiri groups in the area," Hezbollah said in a statement.
Foreign Minister Mohammad Javad Zarif on Friday wrote a letter of condolence to Hezbollah Secretary General Hassan Nasrallah, relaying to him "that martyrdom of this great commander Mustafa will further strengthen resistance forces against the Zionist and terrorism."
Hezbollah is fighting in Syria, backing the government of President Bashar al-Assad against a range of takfiri groups including Daesh and the al Qaeda-affiliated Nusra Front.
Parliament Speaker Ali Larijani sent both condolences and congratulations to Hassan Nasrallah, saying, "That great martyr dedicated years of his life in the front line, battling the Zionist regime and their allies."
In the Islamic culture, people congratulate those who die in pursuit of sublime goals.
Also, Ali Akbar Velayati, top aide to the Supreme Leader, wrote to Nasrallah, saying the martyrdom of the commander will make Jihadi forces stronger in their resoluteness and resistance to stand up to plotters and the Zionist regime.
Defense Minister Brigadier General Hossein Dehghan also penned a condolence letter to the Hezbollah chief, saying, "There is no doubt that the blood of Mustafa Badreddine and other martyrs of the resistance front shed in the battle against the Zionist regime and Daesh mercenaries will uproot terrorism in the region."
Deputy Foreign Minister for Arab and African Affairs Hossein Amir-Abdollahian, at the head of political and security delegation, travelled to Lebanon to express condolences to the family of the martyr.
Amir-Abdollahian laid a flower on the martyr's grave, paying homage to him.
AK/PA