Nasrallah: Security impossible without martyrs
January 19, 2018 - 19:24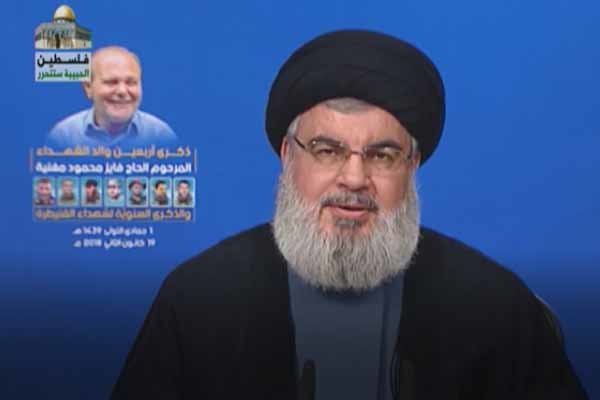 Hezbollah Secretary-General Sayyed Hasan Nasrallah gave a televised address at a memorial ceremony Friday and addressed regional developments and security.
The event was held to commemorate Hezbollah commanders killed in the southwestern Syrian town of Quneitra in 2015 as well as the 40th anniversary of the death of Fayez Mughniyeh, the father of slain senior Hezbollah commander Imad Mughniyeh and the grandfather of the Imad's son, Jihad.
"Today when an official in Lebanon talks about security, it should be known that security couldn't have been established without the martyrs [of Hezbollah]," Nasrallah said. "When we talk about a huge defeat to the American project [for the region] and the victories of the governments and the people of the region, it is due to those sacrifices and the martyrs."
Nasrallah praised Fayez Mughniyeh and his family saying they were one of the families that had offered many martyrs.
Nasrallah called on families in Beirut who left their ancestral towns to continue to remember their families and return to their homes in their original hometowns.
He said that plans by the government and the civil society to lift the burden off the capital, in terms of trash, traffic and drugs. But he said there is a lot of negative impact from the overpopulation of cities in very tiny areas.
He said that even Hezbollah was thinking about this. "[We want] most of those who work in the south, to live in the south,"
"If the issue of transportation was resolved...things would be easier [in the country]."
U.S. ACCUSATIONS OF NARCOTERROR
Moving on to recent reports by U.S. news website Politico regarding international drug dealing networks and the recent news that the U.S. Justice Department had formed a special investigative team to investigate Hezbollah drug networks, Nasrallah denied any involvement.
"During the past few weeks, there have been American accusations that aren't new," he said. "The Justice Department formed a committee and it wanted to investigate how Hezbollah is related to drugs and there was a story [in Politico] about how [former U.S. President Barack] Obama opened the door for Hezbollah in this regard. I want to remind everyone about a position, that these are unfair accusations that are baseless.
"Hezbollah, when it comes to this, is not permitted by religion and we say that it is 'haram.' Even the "Hallal" trade we aren't being involved in, even if it has to do with investments. For Hezbollah, we took the decision that we don't want to be involved in this."
"Hezbollah doesn't have any money to invest anywhere and isn't involved in any [such] project."
"There are some rich people [in Hezbollah], but this is an individual thing. Hezbollah didn't allow anyone to speak in its name and as for the drugs, this comes within the war that we are subjected to."
Attack on Hamas official
Turning to Sunday's bombing that targeted a Hamas official in south Lebanon's Sidon, Nasrallah said: "We are following up the investigation and all signs indicate that Israel was behind implementing the attack."
"When the Lebanese security agencies find out that it was Israel, we hope that it is dealt with as a violation of the Lebanese sovereignty. This is a dangerous beginning. Know we began to understand why they were holding all of these meetings. Is it this [simple] to turn a blind eye to Israel's resumption of attacks in Lebanon? Why are we saying that there is security here?"
I want to sound the alarm - the attack against the Hamas official represents the beginning of a dangerous security phase in Lebanon.
Regional situation--
Then Nasrallah turned to the situation in the region.
"The Americans under the pretext of Daesh [ISIL] want to return and stay in Iraq and the same in Syria."
"There is a continuation of the American discrimination from the Trump administration, Trump says Muslim terrorism on purpose. He has now come to discriminate against African countries," Nasrallah said in apparent reference reports that the U.S. president referred to Haiti, El Salvador and nations in Africa as "shithole countries."
U.S. cuts to UNRWA
"Trump will continue to pressure Arab countries as it appears to have been pressuring the Palestinians. There also appears to be Arab pressure on Palestine for a deal that has been offered to them [by the U.S.] as long as the Palestinians refuse the deal. We have created victories and we will protect our country and side."