Assembly of Experts should abide by the rule of supreme jurisprudence: Ayatollah Jannati
May 24, 2016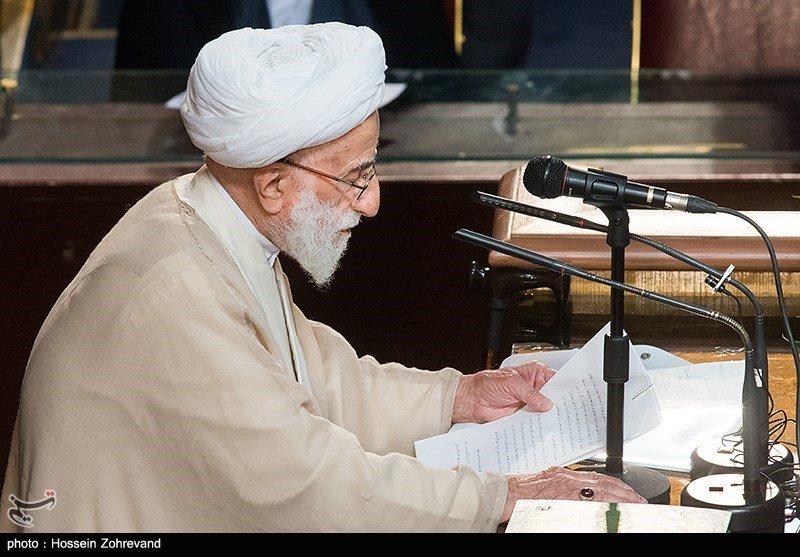 TEHRAN - Ayatollah Ahmad Jannati said on Tuesday that members of the Assembly of Experts should abide by the rule the supreme jurisprudence (Velayat-e Faqih) in order to fulfill their duties.
Jannati made the remarks after he was elected as the chairman of the new Assembly of Experts who is constitutionally tasked with supervising and electing leader of the Islamic Revolution.
"The people will be revolutionary if the Assembly of Experts members and seminary schools are revolutionary," he said during the first meeting of the new 88-member assembly.
The Islamic system cannot carry out its mission without supreme jurisprudence, noted the top cleric who is also the chairman of the Guardian Council.
In an interview with the IRIB, he also highlighted the importance of national unity, saying the Assembly of Experts should maintain unity.
Ayatollah Jannati said that the assembly' duties revolve around the axis of the supreme jurisprudence.
Jannati was elected as the chairman of the Assembly of Experts, securing 51 votes.
Following the election of assembly's new chief and his two deputies, messages form senior officials, including President Rouhani and Akbar Hashemi Rafsanjani poured in.
"The Assembly of Experts has the duty to elect the Leader as stipulated by the Constitution and introduce him to the nation," the president was quoted as saying, wishing longevity for the incumbent Supreme Leader Ayatollah Seyyed Ali Khamenei.
Also, Ayatollah Rafsanjani said that electing the Assembly of Experts' presiding board was done in a "peaceful atmosphere" and without any argument.
NA/PA