Iran's oil production beats 3.8m bpd: Zanganeh
June 14, 2016 - 18:57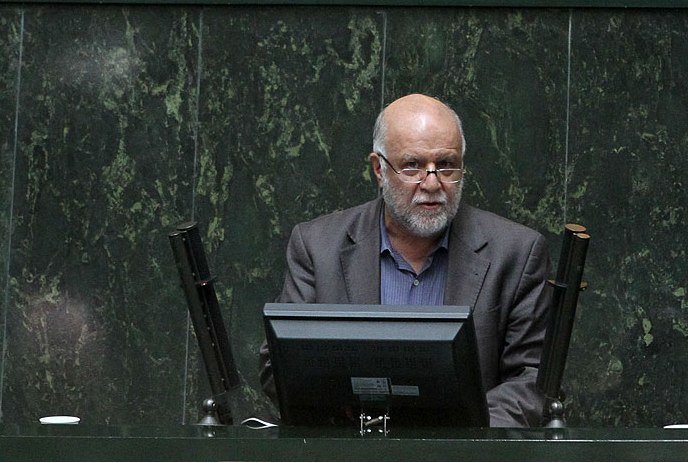 TEHRAN- Iran's oil output surpassed 3.8 million barrels per day (bpd) in the third Iranian calendar month of Khordad (started May 21), the Iranian Oil Minister Bijan Namdar Zanganeh announced, Shana news agency reported on Tuesday.
Presenting a report on his ministry's operations and actions to the Iranian parliament, Zanganeh added that oil production has been doubled as of the Rouhani administration took office in summer of Iranian calendar year of 1392 (August 2013). "The country's oil production stood at 2.7 million bpd in the first five month of 1392 (March 20 - August 19, 2013)," he underlined.
According to him, production of gas condensates is presently around 600,000 bpd, which shows a rise from 380,000 bpd in 1392.
"Iran's exports of oil has been two-folded since the Iranian calendar month of Dey in the past year of 1394 (December 21, 2015-January 19, 2016), while the figure stood at 970,000 bpd in the first five months of 1992," he said, "the country's oil exports is presently two million bpd."
As he added, daily oil output of West Karoun oilfields (five oilfields in the western part of Iran's southwestern region of Karoun, straddling borders with Iraq) was around 70,000 bpd when the incumbent administration took office, while the number currently hovers around 200,000 bpd and is planned to hit 260,000 bpd by the end of the current Iranian year of 1395 (end on March 20, 2017).
Iran has looked to reclaim market share since nuclear sanctions were lifted in mid-January. Western sanctions cut Iran's oil output to 2.7 million barrels per day (bpd) from 3.9 million bpd. The sanctions barred foreign investments in the Iranian oil industry and also limited a low ceiling of 1 million bpd on the country's oil exports.
'Development of joint oil, gas fields still atop agenda'
Managing Director of National Iranian Oil Company (NIOC) Ali Kardor said that his company's policy aimed at development of joint oil and gas fields is still atop agenda, Shana reported on Monday.
The newly assigned NIOC managing director noted that the expansion of South Pars gas field as well as West Karoun oilfields is among his special priorities and added that plans will be devised to complete the projects in the shortest time on the way to increase Iran's oil and gas production.
South Pars field, which Iran shares with Qatar in the Persian Gulf, is estimated to contain a significant amount of natural gas, accounting for about eight percent of the world's reserves, and approximately 18 billion barrels of condensate.
HJ/MA