By Haniyeh Sadat Jafariyeh
Iranian private sector calls for development of international insurance ties
July 27, 2016 - 19:29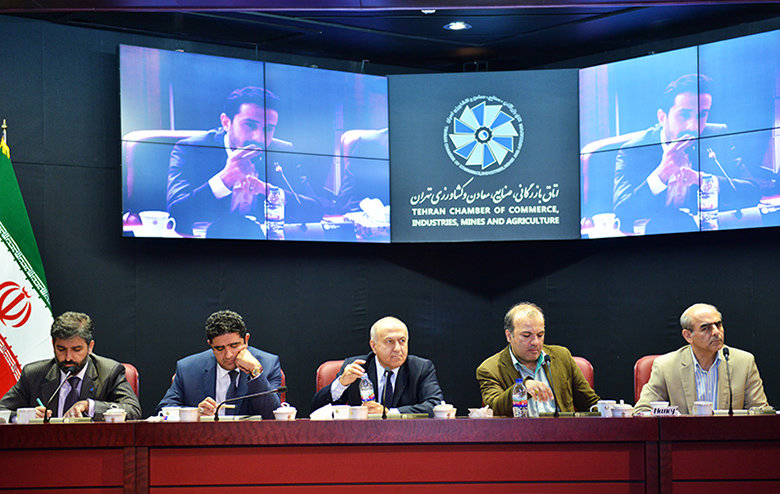 The Secretary of Iran's National Productivity Celebration Farshid Shokr-Khodaie called for international insurance companies to make cooperation agreements with Iranian insurance ones on the way to facilitate a more rapid and effective resumption of trade and investment ties between the Islamic country and the world.
In an exclusive interview with the Tehran Times on the sidelines of the Conference on Industrial Competitiveness in Iran, held in Tehran Chamber of Commerce, Industries, Mines and Agriculture (TCCIMA) on Tuesday, Shokr-Khodaie, who was one of the lecturers of the conference, blamed the insufficiency of international insurance coverage for business activities and foreign investments in Iran as the main challenge of Iranian private sector activists and their foreign counterparts who want to invest or start a business in Iran.
Underscoring the role of insurance coverage as the developer of business activities, he exemplified the Italian insurance company, SACE, who signed three collaboration agreements with the major Iranian private banks, Bank Pasargad, Bank Parsian and Saman Bank, in November 2015 and said "as well as the Iranian banks which are improving their connections with international financial institutes and banks in post-sanction era, it is crucial for Iranian insurance companies to expand their ties with prominent insurance institutes across the globe to assure foreign investors about the safety of their investments and business with Iranians."
Shokr-Khodaie, elsewhere, referred to the essential role of the Iranian private sector in attraction of foreign investments into domestic economic projects, specifically after the execution of the country's nuclear deal with the six world powers and invited foreign investors to pay a specific attention to Iranian SMEs (small-to-medium enterprises) active in the fields of foodstuff, pharmaceutical, chemical and etc. regarding the available untapped market of the country with its 80 million consumers.
He also admitted that to soothe SMEs cooperation with their foreign counterparts, Iran Chamber of Commerce, Industries, Mines and Agriculture (ICCIMA), as the body heading Iranian private sector enterprises, is on the process of preparing a list of the Iranian SMEs as well as their profiles to offer to applicant foreign companies for future cooperation.
'Future of Iranian industry in hands of world leading powers'
The other conference lecturer, Mehdi Poorghazi, the head of Industry and Mine Commission of the TCCIMA, told the Tehran Times that considering the measures taken by President Rouhani's administration during the past three years in general and as of the implementation of the nuclear agreement in particular, it can be said that Iran has achieved a relative stability in its economy.
"Inflation rate has been tamed and fluctuations of exchange rate have been controlled," he said, "the current stable economic situation can be the good news for foreign investors."
"However, what will happen to our economy and industry highly relies on international political affairs and what leading power will do."