Iranian musicians, World Youth Orchestra rehearse in Tehran 
August 3, 2016 - 18:52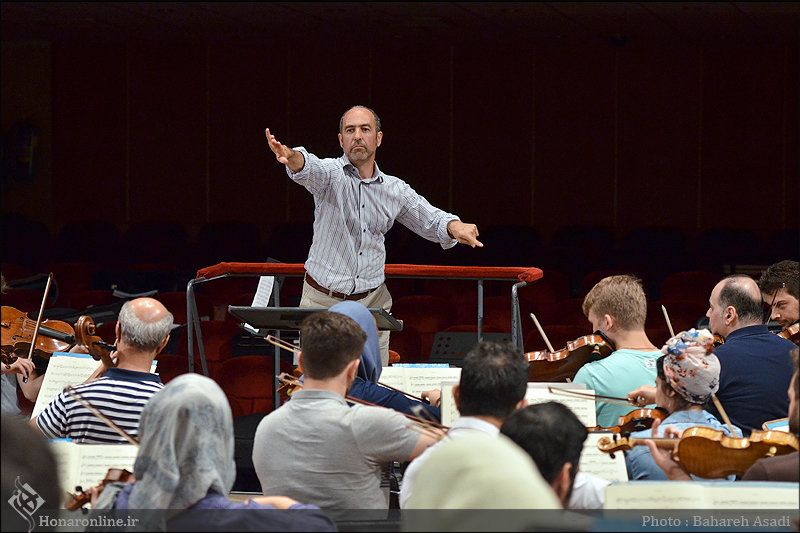 TEHRAN – The World Youth Orchestra, which arrived in Tehran on Monday, performed its first joint rehearsal with the Tehran Symphony Orchestra on Wednesday under the leadership of its Italian conductor Damiano Giuranna at Rudaki Hall.
The orchestras are scheduled to give joint performances at Tehran's Vahdat Hall from August 10 to 12.
Ali-Akbar Safipur, the director of Iran's Rudaki Foundation, which is one of the main organizers of the concerts, Giuranna and several Iranian musicians attended a press conference on Tuesday to brief the media about the concerts.
Safipur said that the World Youth Orchestra, which is based in Italy, consists of young musicians from 10 different countries, including Armenia, Portugal, Germany and Canada.
"To date they have given several performances in Italy and other countries," he added.
Also attending the press conference, Iranian maestro Loris Tjeknavorian said that he will conduct the musicians on the second night of the performances.
Tjeknavorian called Italy the cradle of classical music, and said, "We are happy that the representatives of this music are here in Iran. I will conduct my own compositions of 'Ararat' and 'Melody of Love' on the second night of the performances.
"The Italian language is also musical like Persian and is filled with feeling. People will also come to see our performances; a sign of the friendship between the two nations," he added.
For his part, Giuranna also expressed his thanks to Tjeknavorian and guest conductor Nasir Heidarian.
He said that the concerts are scheduled to be performed in a hall that is named unity (Vahdat), and this is good since the World Youth Orchestra, with its musicians from different countries along with those from Iran, will beautifully symbolize the unity of different nations in their performances.
The musicians from the World Youth Orchestra are also scheduled to hold several master classes and workshops during their stay in Iran.
The National Academy of St. Cecilia and the Sapienza University of Rome are the other organizers of the concert program.
Seventy-five young musicians from the five continents founded the World Youth Orchestra in Rome in 2001 just four days after the 9/11 attacks on the World Trade Center in New York.
Photo: Italian maestro Damiano Giuranna conducts musicians from the World Youth Orchestra and the Tehran Symphony Orchestra during a joint rehearsal at Tehran's Rudaki Hall on August 3, 2016. (Honaronline/Bahareh Asadi)
RM/YAW