South Pars phase 18 platform installation completed
August 3, 2016 - 18:55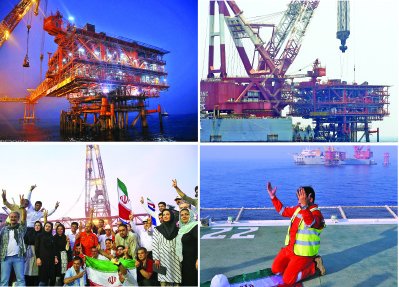 TEHRAN- The platform 18B of Iran's South Pars gas field was fixed on its jacket in the phase 18 of the giant gas field in the Persian Gulf on Tuesday, Shana reported.
The operation of loading the 2,300-ton platform from Bandar-Abbas yard was conducted by Iran Shipbuilding and Offshore Industries Complex Co. (ISOICO) on June 23.
According to Shana, the first phase of the installation process started at 20:00 on Monday evening using Oceanic 5000 crane ship and successfully ended at 12:30 on Tuesday.
As the second step the platform's 240-ton bridge was installed at 20:00 on Tuesday. The bridge is 98 meters high and it is the interface between the main platform and tripod torch.
As scheduled, the torch and torch structures were also installed in their position by 9:00 on Wednesday and the installation process completed in 37 hours.
After completing the installation, hook-up, pre-commissioning and commissioning operations will take four more months.
Launching the platform in December, it will start pumping 14 million cubic meters of natural gas per day.
South Pars gas field, which Iran shares with Qatar in the Persian Gulf, is estimated to contain a significant amount of natural gas, accounting for about eight percent of the world's reserves. The field is divided into 24 standard phases.
Development of phases 17 and 18 is planned to be completed in the second half of the current Iranian calendar year, which began on March 20, according to Ali Akbar Shabanpour, the managing director of Pars Oil and Gas Company (POGC), which is in charge of developing South Pars phases.
EF/MA