Asiatic cheetah extinction claim categorically denied
September 4, 2016 - 20:20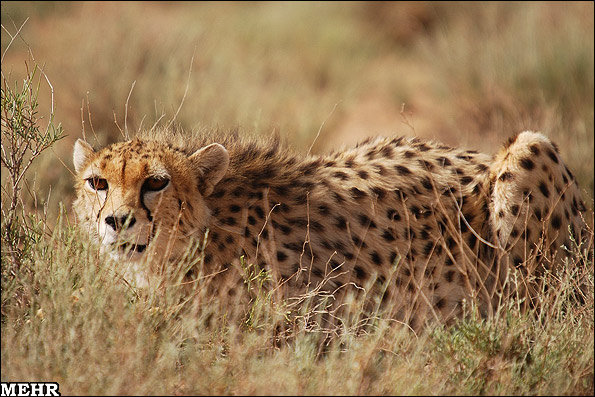 TEHRAN — Morteza Eslami, head of the Iranian Cheetah Society (ICS), categorically refuted a report claiming that Asiatic cheetahs could be extinct as soon as the end of the current Iranian calendar year (March 2017).
In recent days there had been a huge fuss over the dwindling numbers of female cheetahs by quoting Eslami as saying that only two female cheetahs have remained in Iran's wild who may or may not survive through winter.
However the head of ICS rejected the claim on Wednesday over a press conference deeming it a journalist's misunderstanding of what he said stating "only two female Asiatic cheetahs are spotted in Iran and in case the current trend continues they may not survive by the end of the current decade (in five years)."
Over the course of the conference, Asiatic Cheetah Conservation Project Manager Houman Jowkar, emphasized the critical situation of the Asiatic cheetah as the population is dropping and that smallest changes can worsen the situation.
Elsewhere in his remarks Jowkar nullified the claim about two remaining female cheetahs on the grounds that it is not easy to decide the exact number of the remaining cheetahs without comprehensive data.
"Since 2002 we have monitored the cheetahs' population using camera traps, but even so we cannot decide the exact number of the cheetahs using cameras," Jowkar said, adding, "as in Semnan province we failed to capture any pictures of the cheetahs for two months but soon after we collected the cameras someone could take a picture of a cheetah with its three cubs with a personal camera."
A camera trap, also known as trail camera, is used to capture images of animals in the wild with as little human interference as possible. It is a remotely activated camera that is equipped with a motion sensor or an infrared sensor, or uses a light beam as a trigger.
He further highlighted that as experience suggests female cheetahs are less likely to be captured on camera traps as on average less than 10 percent of the photo captured by the camera traps belong to the female ones.
"Considering the camera traps shortcomings now we chose to use genetic tracking of the animals using their feces for both counting them and collecting valuable data on their population, and age and gender ratio among them," he noted, "we will start sampling the feces by autumn."
Mentioning the 6 cheetahs killed in car accidents in a road linking Semnan to Mashhad he ensured the public that they are taking measures to enhance the road safety for the animals especially for the winter when they move more than usual by constructing underpass and overpasses and fencing the area.
"After doing researches we believe that underpasses are more suitable for carnivores; there are currently 30 underpasses in this area," he explained, adding, "we are also planning on fencing the area; the budget is allocated and soon the project will launch."
MQ/MG