Rafsanjani calls Saudis' crimes worse than Israelis'
September 9, 2016 - 20:59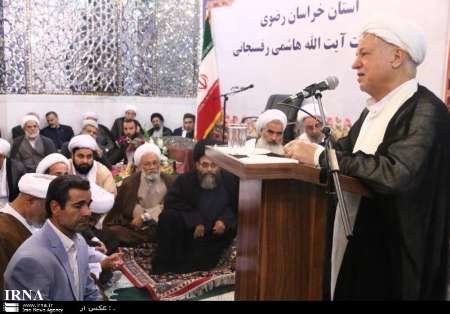 TEHRAN - Ayatollah Akbar Hashemi Rafsanjani, the chairman of the Expediency Council, said on Friday the Saudis' crimes against Yemen are worse those committed by the Zionist regime of Israel in Palestine.
"It has been over a year that the regime which claims ruling the world of Islam is bombarding the oppressed and defenseless Yemeni people," he said during a meeting with political party members in Mashhad.
He called "unity" an "undeniable" necessity for the Islam world.
Pointing to the teachings of Islam and the Islamic world's interests, he said that Shia-Sunni conflicts are the "evil plan" of those who are against Islam.
Elsewhere, Rafsanjani said that different views on the Joint Comprehensive Plan of Action are "natural."
The powers who considered nuclear technology for Iran a threat against the world now have acknowledged Iran's right to enjoy nuclear technology, he said.
Iran and the 5+1 group - the United States, Britain, France, China and Russia plus Germany - finalized the text of the Joint Comprehensive Plan of Action in Vienna in July 2015. The nuclear agreement took effect in January 2016.
NA/AK