Signing preferential, free trade deals to boost Iran-Malaysia economic ties
October 24, 2016 - 9:25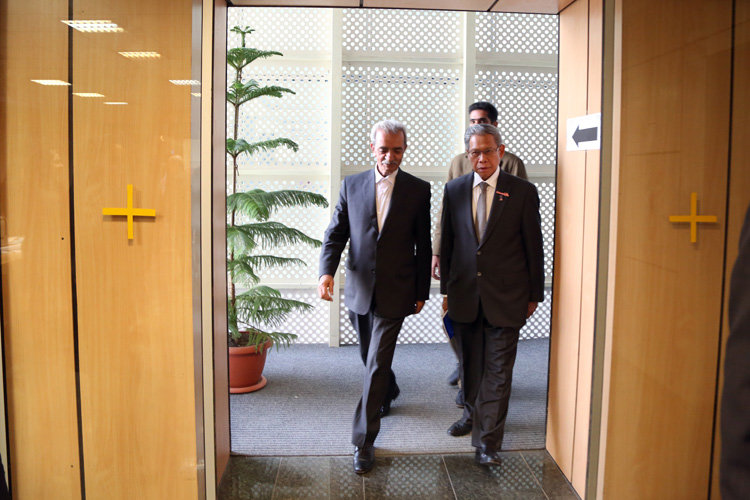 TEHRAN- The Iranian Communications and Information Technology Minister Mahmoud Vaezi, who is also the Iranian head of Iran-Malaysia Joint Economic Committee, after a Saturday meeting with the Malaysian Minister of International Trade and Industry Mustapa Mohamed, underlined that signing preferential and free trade agreements can act as one of the effective ways to expand bilateral ties between the two countries, IRNA reported.
As Vaezi told reporters, negotiations have been conducted for exporting Iranian petrochemical products to Malaysia and Iranian products will enter the country's market in the near future.
The Malaysian minister, for his part, admitted that both sides are eager to bolster their trade ties via endorsing a joint preferential trade agreement and reviving relations.
Tehran to host joint economic committee meeting in spring
The Iranian minister also announced that to improve common ties the eight meeting of Iran-Malaysia Joint Economic Committee will be held in Tehran in spring 2017, where a roadmap to develop mutual ties will be prepared.
As reported, during Iran-Malaysia business forum, held in the building of Iran Chamber of Commerce, Industry, Mine, and Agriculture (ICCIMA) on Saturday, ICCIMA Head Gholam-Hossein Shafeie and the visiting Malaysian minister underscored the vitality of improving cooperation between the two countries and having access to available markets.
The Malaysian minister, also the Malaysian head of Iran-Malaysia economic committee, arrived in Tehran on Saturday heading a 28-member economic delegation.
HJ/MA