Iran, S. Africa discuss health co-op
November 5, 2016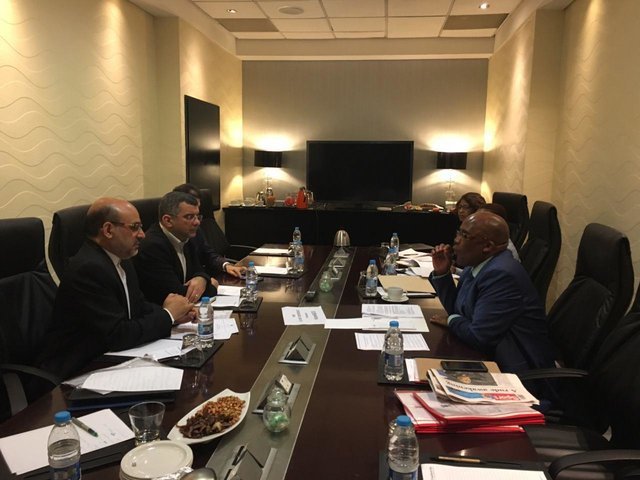 TEHRAN — The Iranian deputy health minister, Iraj Harirchi, and the South African health minister, Aaron Motsoaledi, discussed areas of cooperation in a meeting in Johannesburg on Tuesday, IRNA news agency reported.
Harirchi met with Motsoaledi following a trip to South African to take part in the 40th World Hospital Congress of the International Hospital Federation (IHF) held on October 31 to November 3 in Durban.
The two officials exchanged views on different topics, including pharmaceutical industry, student and faculty exchange programs, and treatment for communicable diseases such as AIDS and tuberculosis.
"Iran and South Africa have always enjoyed close relations for decades and it is necessary for them to move on to improve relations in the health sector now," Harirchi suggested.
Iran has great potentials in various fields of medical education, research, technology, pharmaceuticals, vaccine production, and medical equipment both regionally and globally, he added.
Motsoaledi, for his part, pointed out that Iran is prominent for its primary care and health-care insurance coverage for all.
He expressed readiness for cooperation work with Pasteur Institute of Iran, an advanced research center in Tehran providing innovative programs in basic and applied medical sciences, and production of biopharmaceuticals and diagnostic kits with special emphasis on infectious diseases.
He additionally welcomed the idea of setting up a joint medical committee for sharing and discussing views on promoting medical cooperation with Iran.
The South African minister further stated that the two sides would sign memorandums of understanding in his trip to Iran in February.
Being held on the theme of Addressing the Challenge of Patient-centered Care and Safety the World Hospital Congress is a unique global forum that brings together key drivers of national and international policy, management, financial trends and solutions in healthcare management and service delivery. Through this forum multidisciplinary exchange of knowledge, expertise and experiences are facilitated, together with dialogue on best practices in leadership in hospital and healthcare management and delivery of services.
MQ/MG