Syria: Terrorists' Chemical-Weapon Workshop Found in Aleppo
December 31, 2016 - 17:27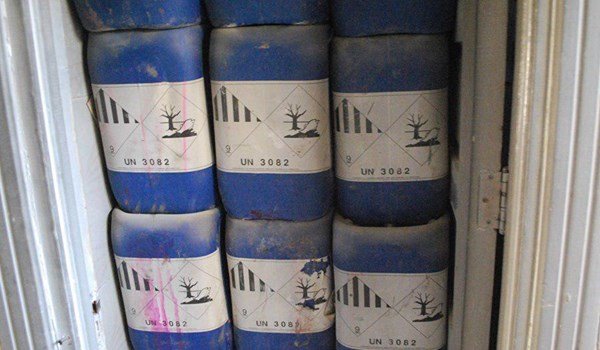 TEHRAN (FNA)- Syrian Army has discovered a large workshop of Jeish al-Fatah coalition of terrorist groups that had been used for making chemical weapons in Eastern Aleppo, a military source disclosed Saturday.
The source said that the army men in their mop-up operations in the Eastern districts of Aleppo city have discovered the terrorist groups' chemical bomb manufacturing workshop, adding that the chemical bombs made in there have been used for striking civilians and army positions.
Another source underlined that the terrorist had used the poisonous gas against the army forces in Southwestern Aleppo.
"After carrying out laboratory tests on the samples it became clear that the materials used in the bombs were made from the US. We found several packages with UN 3,082 labels," the source said.
Official Envoy of Syria for implementation of the agreement of the Organization for the Prohibition of Chemical Weapons (OPCW) Samer Abbas presented a series of documents to the representatives of the International Committee of the OPCW, proving that terrorists used Mustard Gas in Syria.
Based on Abbas remarks, the representatives of the OPCW were due to form a special committee to investigate the use of chemical weapons by terrorists, "but they have not done anything in this regard yet".
Commander of Russia's International Mine Action Center Ivan Gromov disclosed on Wednesday that a large volume of weapons, manufactured in the US, Germany and Bulgari, were discovered as Russian sappers were on a mine clearance mission in Eastern Aleppo.
"Ammunition and large-caliber arms together with rockets for Grad multiple launch systems have been found there. The shells have been produced in Germany, the United States and Bulgaria," Gromov said.
The Russian combat engineers also found 122mm mortar shells, rockets for multiple launch rocket systems, hand grenades, grenade launchers and howitzer projectiles in one of the militants' headquarters, the commander said, adding that the ammunition discovered there were in such a large quantity that they would be enough for a battalion.