Plasco tragedy - Day 6: 11,000 tons of debris removed, 6 bodies discovered
January 24, 2017 - 18:50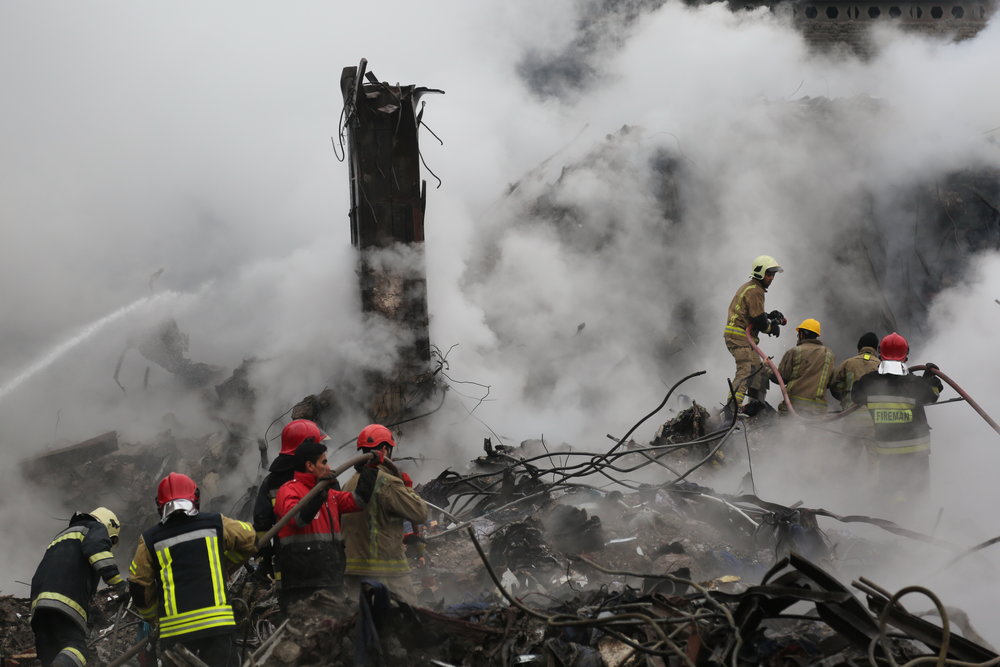 TEHRAN — After six days of continuous rescue operation following to the inferno in Plasco building some 11,000 tons of debris have been removed and six bodies found so far.
The 17-story building, a shopping center located in downtown Tehran, caught fire on Thursday and after three hours it collapsed while a number of firefighters and ordinary people trapped under the debris.
Unfortunately due to the damages their bodies suffered by the massive piles of debris and the fire their identities have remained unknown so far and they are transferred to the forensics for identification.
Moreover, 202 people have suffered injuries due to the fire and the collapse; 154 received outpatient care, 48 were transferred to the hospital, two of whom have not been discharged yet and sadly, Behnam Mirzakhani, one of the firefighters, passed away due to the severe burns he sustained during the rescue operation.
Earlier it was announced that some 15 to 25 firefighters and other people might be trapped under the debris and because of the searing heat any hopes to find any of the victims alive is almost faded.
Tehran fire department director has said that the rescue operation would take two more days to complete.
It was also pointed out by Tehran forensics department director general Masoud Qadi-Pasha that it is most likely that the bodies are burnt into ashes and won't be found anymore.
The money and personal belongings found at the scene are safe with the police and will be brought back to their owners.
Coordinated by the health ministry and universities of medical sciences 10 teams of psychotherapist comprising 20 experts also attend the scene to help firefighters, other victims and the missing people families to cope with current situation and the pain they are going through.
A public funeral will be held on Thursday for the late firefighters at the University of Tehran and they will be laid to rest on the same day.
MQ/MG