Officials laud Asghar Farhadi for Oscar win 
February 27, 2017 - 18:22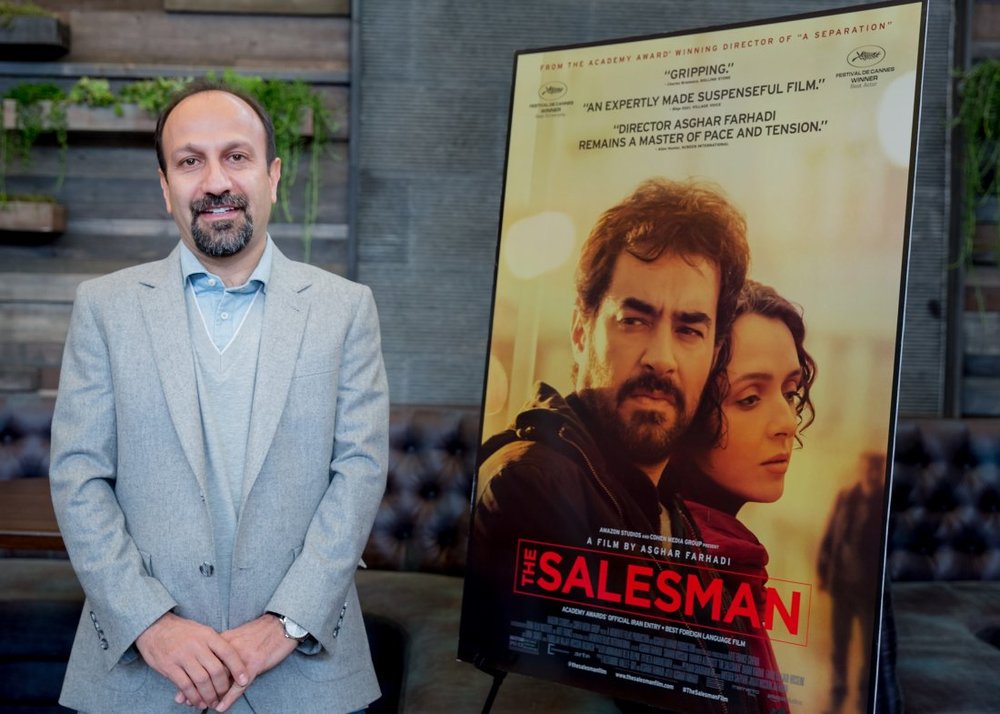 TEHRAN – Messages of congratulations have streamed in from all over the world after Asghar Farhadi's "The Salesman" won the Oscar for Best Foreign-Language Film at the 89th Academy Awards.
Vice President Es'haq Jahangiri offered his message to Farhadi, in the remarks he made on the sidelines of the Conference on the National Day of Protecting the Rights of Consumers on Monday.
"I express my congratulations to Farhadi and his cast and crew who won an Oscar for the second time. I also admire their appropriate decision in protecting their people against the inhumane act and did not attend the ceremony in the United States," Jahangiri said.
Minister of Culture and Islamic Guidance Reza Salehi-Amiri sent his message to Farhadi in a separate dispatch.
"In the tumultuous, dark and insecure world of today, altruism and peace act as a guiding light that brings together liberal individuals and alerts their consciences. And you are able to echo the message of the peace-seeking spirits of Iranians with your expressive language of art far beyond the borders," the minister said addressing director Farhadi.
"No doubt the cinema of Iran, which has had a significant share in promoting culture and reinforcing national security, can promote the art of this land in the world with the repetition of its international success, and bring hope and joy back to Iranian citizens," the message adds.
"Proud of cast and crew of 'The Salesman' for Oscar and stance against #MuslimBan. Iranians have represented culture and civilization for millennia," Iranian Foreign Minister Mohammad Javad Zarif posted on his Twitter early Monday.
Also in his message, the Cinema Organization of Iran Director, Hojatollah Ayyubi, expressed his happiness over the great achievement.
"A powerful ambassador and an expressive language of Iranian culture and civilization, on the verge of spring and the arrival of Noruz, the cinema of Iran has been a messenger of happiness for the people of the Sun land. And the song of happiness is once again heard all across the city. This great historical success produced a wave of joy and happiness in the hearts of those who are living with love in every corner of the world. Happy winning the second Oscar to the people of Iran and to you who deserve this glory, Be happy forever," reads the message of Ayyubi.
In his message, Farabi Cinema Foundation Managing Director Alireza Tabesh also lauded Farhadi for his foresight, nobility, courtesy, and the international and national perspectives, which have made him see and respect humankind far beyond color and race.
"Dear Asghar Farhadi, we ask God for your eternity, and wish you honor and glory. You endure and produce, so that humanity will remain," reads part of the message by Tabesh.
In addition, the U.S Department of State has expressed congratulations to Farhadi, the cast and crew of "The Salesman" and the people of Iran on its Twitter page written in Persian.
Photo: Director Asghar Farhadi poses for a picture at the Egyptian Theatre in Hollywood, California on January 7, 2017. (Getty Images/Greg Doherty)
RM/YAW
Khoob Khob.....Go Ahead sir