By Ali Kushki
Ex-President Ahmadinejad registers for May presidential election
April 12, 2017 - 14:34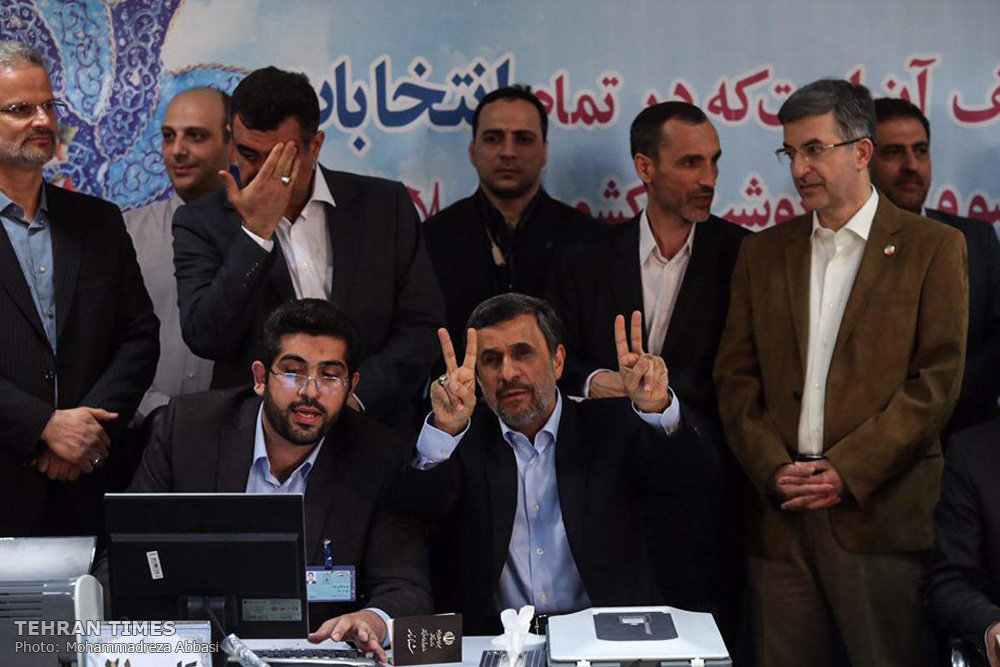 TEHRAN - Former President Mahmoud Ahmadinejad submitted his name for registration for the May 19 presidential election on Wednesday in an apparent reversal of earlier promises not to run. 
Back in September during a lecture to seminary students in Tehran, Supreme Leader Ayatollah Seyyed Ali Khamenei said he would not find it advisable for Ahmadinejad to seek a comeback to politics "both for his own and the country's good."
Flanked by reporters after filling out registration forms and making a victory sign, Ahmadinejad said: "The Leader advised me not to participate in the elections, and I accepted. His advice, however, shouldn't be taken to mean that I'm banned."
Prior to his registration, Ahmadinejad had shifted over the issue puzzlingly within months.
Responding to the Leader's advice, Ahmadinejad said that he had no intention or plan to run for president, just to express full support for the candidacy of his protégé Hamid Baghaei five months later.
Ahmadinejad's two consecutive terms (2005-2013), the so-called "Ahmadinejad era", were characterized by bad governance, suspected financial irregularities, heavy market intervention, and data rigging.
Meanwhile, in a rare press conference on April 5 in Tehran, he rejected the allegations, reiterating that his government was "the cleanest in Iran's history."
Also, under his administrations, Iran's international ties were brought to an unprecedented low point and the country's nuclear dossier escalated into a drawn-out diplomatic impasse, resolved peacefully in 2015 under the Rouhani administration.
The registration move is expected to set up a stark confrontation with presidential hopefuls on the principlist front, particularly cleric Ebrahim Raisi who is seen as a main challenger to pragmatist President Hassan Rouhani who is constitutionally allowed to seek a second term.
Sadegh Zibakalam, a political science professor at the University of Tehran, said a week before the registration that Ahmadinejad could challenge Rouhani seriously, what Raisi falls short of doing due to weak grassroots support.
Presidential entrants will be screened for their political and Islamic qualifications by a vetting body, the Guardian Council.
People familiar with the issue suspect if Ahmadinejad is qualified by the 12-memebr overseeing body.
"Most likely, he will not be qualified," Tehran-based political analyst Saeed Leylaz said hours after Ahmadinejad's registration.
Hassan Lasjerdi, a principlist political analyst, appeared more certain over the disqualification of Ahmadinejad by the powerful council.
"He won't be qualified by the Guardian Council for sure given his background," he told the Tehran Times, citing Ahmadinejad's disobedience to abide by law during his presidency and opposition to the Leader, which he said is constitutionally a breach of law.
In an announcement late March, Ahmadinejad, while formally endorsing Baghaei, highlighted that he felt called upon to make sure that "mistakes committed in 2013 won't happen," a reference to disqualification of Esfandiar Rahim Mashaei, a close confident of him, in the 2013 presidential elections.
Critics accused Mashaei of being the leader of a "deviant current" that seeks to undermine Islamic rule.
AK/PA