By Maryam Qarehgozlou
We cannot afford to waste wastewater: UNESCO representative to Iran
May 3, 2017 - 17:55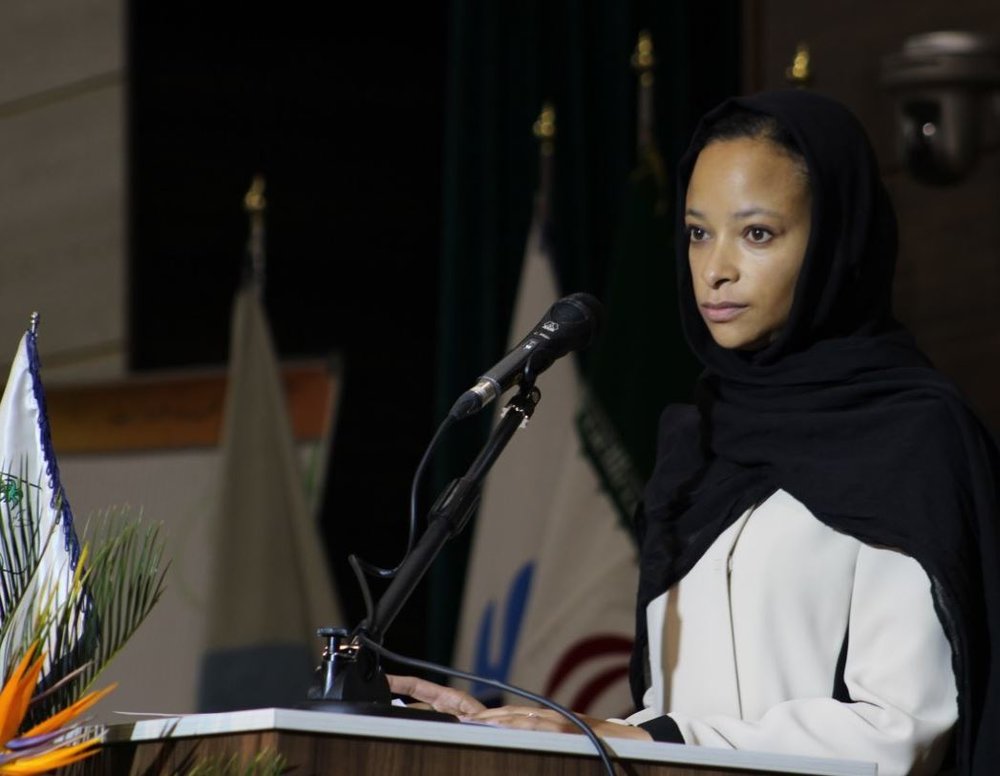 TEHRAN — "At the time when demand is growing and limited resources are increasingly stressed by over extraction, pollution and climate change, we simply cannot neglect the opportunities from improved wastewater management; we cannot afford to waste wastewater," said UNESCO representative to Iran on Tuesday.
Esther Kuisch Laroche made the remarks over the opening ceremony of the first technical session and training workshops on water security in human settlements held in Tehran on Tuesday.
"Urbanization has come at great cost to our water resources and we heavily degrade it to enable development, supply drinking water, and facilitate transport in industry and a large proportion of wastewater is released into the environment without being either collected or treated and that is particularly true of low income countries where on average only 8 percent of domestic and industrial waste water is treated compared to 70 percent in high income countries," Laroche regretted.
She went on to say that "as a result in many regions of the world water contaminated by bacteria, nitrates, and phosphates is discharged into rivers and lakes ending up in the oceans with negative consequences for the environment and public health."
"Poor water quality not only negatively affects human health and ecosystem in multiple ways but also makes water unfits for different purposes and hence reduces the water resources availability and consequently water pollution is one of the greatest threats to availability and reduction of fresh water, "she noted.
"Pollution reduces the availability of freshwater supplies which are already in distress least of all because of climate change; nevertheless, governments and decision makers have been primarily concerned by the challenges of water supply notably when it's scarce while overlooking the need to manage water after it has been used," she added.
"The collection, the treatment and safe use of wastewater are at the very foundation of the circular economy which result in economic development with the sustainable use of resources," the UNESCO official stated.
"Reclaimed water are largely under-exploited resources which can be used many times," Laroche, reiterating, "Water treatment technologies do not need to be out of reach for developing countries because low cost treatment solutions already allow for the extraction of energy and nutrients, they may not yet allow for the direct recovery of potable water but they can produce viable and safe water for other uses such as irrigation and materials derived from waste water can also provide additional revenue to help cover the investment and additional costs of wastewater treatment."
"And I'm therefore very pleased that water quality, water reuse, and wastewater recycling feature prominently on the agenda of this conference. Iran has made lots of efforts in the area of wastewater treatment and I hope that you'll share these local experiences that can also benefit other countries in the region," she highlighted.
Water shortage to affect one in four people by 2050
By 2050 at least one in four people is likely to live in a country affected by chronic or recurrent shortages of fresh water if we don't take urgent action, she warned, "it is therefore not surprising that access to water and sanitation as well as environmental protection and sustainable urban development are issues at the heart of the 2030 agenda for sustainable development."
She further noted that "in September 2015 world leaders adopted a set of 17 sustainable development goals to end poverty, protect the planet, and ensure prosperity for all and goal number 6 deals specifically with water; it calls upon conscience to ensure access water and sanitation for all, but sustainable water management is not just important for goal number 6, it is really vital in achieving all of the sustainable development goals."
"In a world of 7 billion people with limited natural resources it is clear that individuals and societies will have to learn to live together in harmony and to take responsible actions based on the understanding that our actions today and here will have implications for the lives and livelihoods of people on other sides of the world as well as for future generations," she said.
"And sustainability requires substantial changes in the ways we produce and consume. Fundamentally it requires new ways of seeing the world. New ways of thinking about our responsibilities to each other and to the planet and new ways of acting and behaving as global citizens. And this is why today, perhaps more than ever before, we make joint efforts to move forward," she suggested.
Global water use outpaces population growth
Addressing the conference Laroche continued "the planet's fresh water resources if managed sustainably and effectively can meet demands of the world growing population with good water policies. But we will have to make decisive urgent action because global water use is growing at more than twice the rate of population increase in the last century and for many countries water scarcity is already the most pressing challenge to social, economic, and human development at large."
Today more than half of humanity, 3.9 billion people, live in cities and this global urban population will continue to grow at an unprecedented rate with two out of three people expected to live in cities by the year 2050, she pointed, saying, "So finding solution for sustainable urban water management is indeed a very pressing issue and the development for national capacities in urban water management is a pre-condition for understanding a developing solution to address water scarcity around the world."
Poor water quality not only negatively affects human health and ecosystem in multiple ways but also makes water unfits for different purposes and hence reduces the water resources availability and consequently water pollution is one of the greatest threats to availability and reduction of fresh water.
"Our planet today is facing unprecedented challenges ranging from increasing social disparity and inequity, population growth, climate change, arising number of natural disasters, environmental degradation, shrinking biodiversity, to the unsustainable use of fresh water resources," Laroche lamented, adding, "Our planet is under pressure, and we are reaching the limits of its boundaries. Across the world water scarcity is increasing exacerbated by the effects of climate change and this is why it gets to become of the most important human security challenges for the near future."
"Let me just once more underscore the importance of this conference and your presence today," she underlined, "We really count on your expertise and your active participation over the coming days to compile the outcome this event into UNESCO publication on advances of water management in arid and semi-arid areas. The purpose is to share your experiences and your recommendations and your lessons learnt with countries around the world."
Low precipitation's impact on highly populated areas
Iranian Deputy Energy Minister Sattar Mahmoudi, for his part, commented on the negative effects of urbanization particularly in areas with lower precipitation levels.
Iran is situated in an arid and semi-arid area and many provinces such as Isfahan, South Khorasan, Semnan, and Kerman are highly populated while there isn't enough water to support the dwellers, Mahmoudi said.
Creating balance between the population and the amount of water available comes at a great cost; he explained, "Transferring water, building dams, and recycling are of the expensive methods we need to implement to manage water in these regions."
"The truth is that the water resources are shrinking due to global warming and increasing evaporation levels and that means we have to come up with more sustainable methods of development," the deputy minister noted.
"We did a great job in urban wastewater treatment, however we still need to put a great deal of effort into equipping rural areas with proper wastewater treatment plants," he added.
Arranged by Tehran Regional Water and Wastewater Company and Energy Ministry in association with United Nations Educational, Scientific and Cultural Organization (UNESCO) International Hydrological Program (IHP) the three day event is concentrating on water security particularly in human settlement in urban areas.
The event also includes six various workshops intending to discuss water related issues with lecturers from the U.S., Cyprus, South Korea, China, Australia, France, and South Africa.
MQ/MG