Congratulations pour in for Rouhani from around the world
May 20, 2017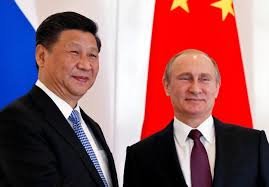 Officials from various countries including Chinese and Russian leaders on Saturday congratulated Hassan Rouhani on his re-election as president.
Incumbent Rouhani, who sought re-election in the Friday election, won a landslide victory in the Friday polls, wining 23,549,616 votes out of a total of 41,22,131.
EU's Mogherini: I congratulate Rouhani for receiving strong mandate
European Union foreign policy chief Federica Mogherini congratulated Rouhani in a Twitter message.
"Iranians took passionately part to political life of their country. I congratulate President Hassan Rouhani for strong mandate received," she tweeted on Saturday.
In another Twitter message, she said, "EU ready to continue work for full JCPOA implementation, bilateral engagement, regional peace, and meet expectations of all people in Iran."
Putin congratulates Rouhani
Russian President Vladimir Putin issued a statement congratulating Rouhani on the victory in the presidential election.
"Russian President Vladimir Putin has sent a telegram to Hassan Rouhani congratulating him on a convincing victory in the Iranian presidential election," Sputnik reported the statement as reading.
Congratulating Rouhani on reelection, Syrian President Bashar al-Assad issued a statement noting that Damascus would continue to work and cooperate with the Islamic Republic of Iran "in what boosts security and stability in the two countries, the region and the world".
Norwegian Foreign Minister Borge Brende welcomed re-election of Rouhani.
According to ABC News, Brende said he echoes the sentiment of Germany's Defense Minister Ursula von der Leyen, who said Rouhani's re-election sends a message that Iran could be serious about instituting reforms.
In separate messages, Emir of Kuwait Sabah Al-Ahmad Al-Jaber Al-Sabah, Crown Prince of Kuwait Sheikh Nawaf Al-Ahmad Al-Jaber Al-Sabah and Prime Minister of Kuwait Jaber Al-Mubarak Al-Hamad Al-Sabah congratulated Rouhani.

Indian Prime Minister Narendra Modi also insisted that New Delhi will continue to remain committed to strengthening its special relationship with Iran.
China's Xi: Iran has made achievements under Rouhani
Chinese President Xi Jinping also sent a message to Rouhani congratulating him on re-election.
According to Xinhua, Xi said in the message that Iran has gained new socio-economic achievements over the past four years under Rouhani's leadership, and that the China-Iran relationship has maintained sound momentum of development thanks to the two countries' joint efforts.
'Confidence in Rouhani'
Azeri President Ilham Aliyev sent Rouhani a message and congratulated his re-election.
He described Rouhani's re-election as an indication of the Iranians' confidence on him.
Nabih Berri, the speaker of Lebanon's Parliament, congratulated Rouhani on re-election.
Sultan of Oman Qaboos bin Said al Said also congratulated Rouhani on re-election.
NA/PA