By Banafshee Esmaeili
Technology has opened new ways to transfer Iranian gas to India: diplomat   
June 18, 2017 - 13:14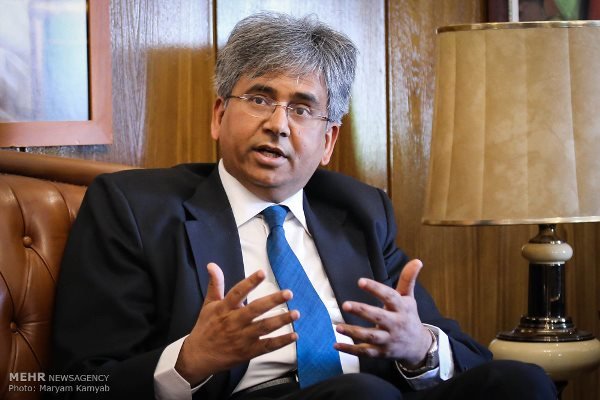 TEHRAN – The Indian ambassador to Tehran says new technologies have provided new opportunities for transfer of Iranian gas to India.
"Modern technology provides other possibilities," Ambassador Saurabh Kumar says in an interview with the Mehr news agency when asked about the "peace pipeline" which was expected to transfer the Iranian gas to Pakistan and then to India.
Following is the text of the interview:
Q: What is the common ground of cooperation between Iran and India?
A: India–Iran relationship is a very old relationship. It is a very historical relationship, and we have had good bilateral ties, and people to people contacts. So we look forward to our relationship growing further in all areas including political, economic, cultural, people to people and scientific and technical exchanges.
We already have a good base for moving ahead in these areas. We are doing good in some of these areas, but potential is a lot more. So we are working for expanding the relationship. Hydrocarbon or energy sector is an important sector for cooperation. Chabahar, trade, connectivity are other areas where we are working. Our prime minister's visit last year was reflective of the desire on both sides that we want to broaden and deepen our relations.
Q: What changes have been made in terms of economic relations between the two countries since the implementation of the JCPOA, the official name for the 2015 nuclear deal?

A: The most significant consequence of the JCPOA was that we are now importing more Iranian crude oil. We are also able to pay Iranian side for the crude oil which we buy in hard currency. This was not possible before the JCPOA. Crude oil is very important and significant part of our bilateral trade. So this is something which has benefited us and has benefited you. Before the JCPOA there were restrictions on the crude we could buy from you since banking channels were not working. After the JCPOA there are no obstacles in the way of crude purchase by India from Iran. So this is a very positive development.
Q: What position does Iran hold in meeting India's energy needs?
A: As I told you energy cooperation is a very important part of our cooperation. Before sanctions, Iran was at number two position in supplying crude to India. I am happy to inform you that after the JCPOA, we started importing more and more of Iranian crude. Today Iran has improved its position. It is the second largest supplier of crude to India. Last year we bought 20 million metric tons of crude from Iran worth almost 7 billion US dollar. So we are satisfied that energy partnership has progressed. But we have an understanding that we want to move away from a buyer-seller relationship to a more comprehensive energy partnership. This is what we need to work towards.
Q: From India's perspective, what is the alternative to the Peace Pipeline?
A: I would not like to go into history of the pipeline. We should look ahead. Pipeline is one of the options for transfer of gas from Iran to India. There are other options too which are also available. LNG is one such option; modern technology provides other possibilities. So we look at all these when we have discussion with our Iranian friends. Whichever option is most practical from commercial point of view and is technically feasible, is the option which we would be ready to work with.
Q: India skipped One Belt One Road Forum (Silk Road) held in China due to the unsolved Kashmir dispute. Now the question is how India might form its future economic bloc facing the U.S. withdrawal from TPP and China's effort to revive the Silk Road? Will India finally join the New Silk Road project?
A: India's position in OBOR (One Belt-One Road) which now is being referred to as BRI (Belt and Road Initiative) is very clear. China-Pakistan Economic Corridor (CPEC) passes through Indian Territory which is under the illegal occupation of Pakistan. CPEC is an important component of BRI. So it would be appreciated that India for this reason, has difficulties with BRI. As far as India's economic relationships are concerned, we would like to have good economic ties with all countries. For example, India is part of the negotiations on RCEP in which China, South East Asian countries and others are involved. We are carrying on negotiations with the Europe Union for an economic partnership but these have not been successful till now. We are also looking at the Eurasian Economic Union for a structural relationship with it. And we are an active member of the WTO, and would like to see that its agenda moves ahead. We would want to have good economic relationship with all.
Q: The Nuclear Suppliers Group meeting will be held next month in Switzerland and India will put forward request to join the group. However, China has said its position in regard to an Indian membership has not changed, saying it is opposed to membership of countries that have not signed the NPT. Given the fact that China has veto rights in the UN Security Council, what will India do in this context?
A: Our policy is clear. India wants to join the Nuclear Suppliers Group and we would continue our consultations with all parties, including China to achieve our objective.