By Hassan Lasjerdi
Quds Day since 1979 
June 24, 2017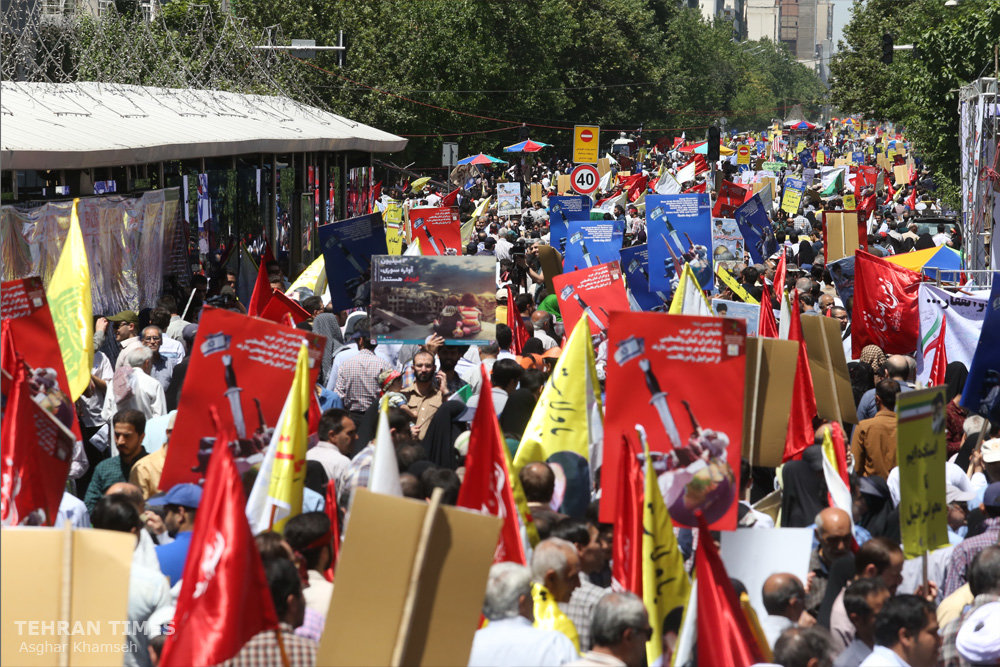 TEHRAN- Imam Khomeini's initiative in naming the last Friday of Ramadan as Quds Day has found its place in the world and rallies are held throughout the world on this day.
This symbolic action, which attaches great importance to the Palestine issue, has globalized Quds issue.
However, it seems the founder of the Islamic Republic had other things in his mind. They can be listed as follows:
- Quds Day is an international issue and not a sectarian or a nationalistic challenge in the Arab world.
- All those who are interested in the Quds issue, and more importantly the Palestine cause, were aware that Quds Day will cause fundamental changes given the effect of the Islamic Revolution on the Middle East.
- Imam Khomeini's intelligence in making the Palestinian issue an international issue free from all sectarian, ethnic and nationalistic clashes helps boost campaign against Israel.
- During the 1980s, the world was divided into the Western and Eastern powers who considered themselves superpowers. Quds Day could and did change the international equations.
- Since the 1979, the dimensions of the Palestinian issue have been expanded and all the world has got familiar with the issue and it is a good start to know the Palestine issue.
- It seems that Quds Day has gained more momentum in the current era in which the social networks are on the rise with a great speed.
- Under Imam Khomeini's new strategy to save the Palestine issue, today we are witnessing more organized campaigns against Israel by various figures, highly talented people, legal institutions and NGOs which have made the campaign more meaningful.
Imam Khomeini showed freedom-seeking nations the clear path for struggle against Israel and it is the Palestinian people and all the other freedom-seeking people in the world that have to follow this path as each year the Quds Day rallies are being held with more glory.