Trump and Moon should get on the same page
July 1, 2017 - 4:12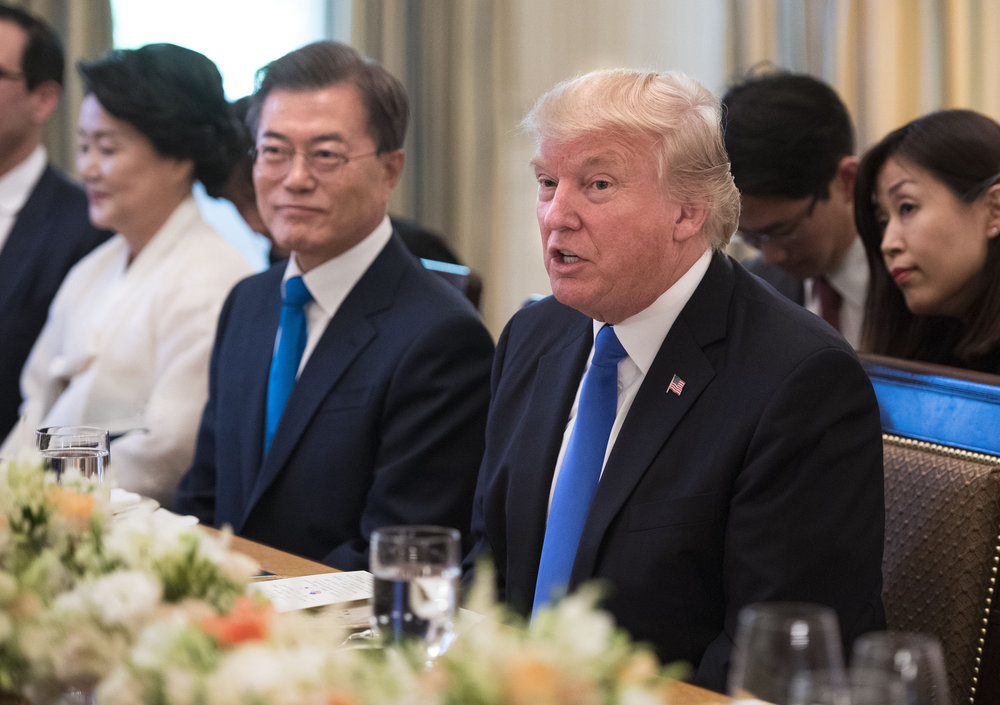 The allies need to resolve their differences quietly
Given past comments and the personalities involved, this week's summit between U.S. President Donald Trump and South Korean President Moon Jae-in could easily go off the rails. That's why both sides need to set aside domestic political considerations and deal with their most pressing issue: North Korea.
Encouragingly, Moon's administration seems in recent days to have reached the same conclusion. Korea's left-wing president had raised hackles in Washington by halting deployment of additional elements of a U.S.-made missile defense system -- known as Terminal High Altitude Area Defense, or Thaad -- and pressing for a softer approach in the nuclear standoff on the Korean Peninsula, possibly including the reopening of a joint economic zone that would funnel hard currency to the North.
Lately, however, Moon and other Korean officials have made clear that they don't intend to reverse the Thaad deployment, or to push for a quick reopening of the Kaesong economic zone. In calling for dialogue with the North, Moon now says, he's proposing nothing more than what Trump himself has: talks when the time is right.
The greater burden thus lies on Trump. He's roiled relations by complaining about the cost of stationing U.S. troops on the Korean Peninsula and by demanding that South Korea pay the $1 billion price tag for the Thaad deployment. Trump has also blasted the Korea-U.S. free-trade agreement, or Korus, and threatened to scrap it.

Belatedly, the White House seems to have recognized the folly of bypassing the South and relying on China to bring North Korea back to the negotiating table. Any serious frictions between the U.S. and South Korea will only further relieve pressure on China to act. Tensions would also complicate efforts to deepen the trilateral defense and intelligence relationship with fellow U.S. ally Japan.
Trump should handle any disagreements with Moon as he did earlier this week with Indian Prime Minister Narendra Modi: quietly.
Korus, for instance, is a good deal for both sides. It can be improved around the margins, and better enforced, without histrionics. Repeatedly questioning how much money South Korea is contributing to the military alliance is also shortsighted. Instead, Trump should send a message to both China and North Korea by strongly and unconditionally reaffirming the U.S. commitment to South Korea's defense.
The U.S. should also work through South Korea to develop alternate channels of communication to the North, to clarify each side's positions, and explore the outlines of more formal talks. There's no reason the U.S. couldn't support Moon's efforts to deepen people-to-people contacts with the North, as opposed to commercial relations; any measures that help to open up North Korean society and spread information about the outside world will help undermine the Pyongyang regime.
As Moon has noted, he and Trump share the same goal: a denuclearized Korean Peninsula. To achieve it, they'll have to work together.
(Source: Bloomberg)