Iran, Iraq take steps for closer military co-op
July 23, 2017 - 18:55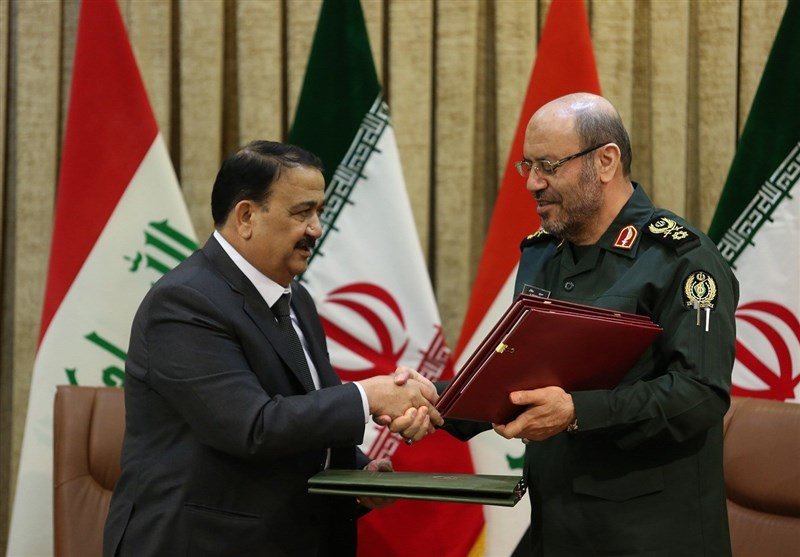 TEHRAN – Iran and Iraq signed an initial agreement on Sunday to boost military cooperation in various areas, including counterterrorism efforts.
The agreement, mainly intended to boost military cooperation in the region, was signed in Tehran between Iranian Defense Minister Brigadier General Hossein Dehqan and his Iraqi counterpart Erfan Mahmoud al-Hayali.
Under the agreement, Tehran and Baghdad will share their experiences in the fight against terrorism, cooperate to boost border security, and provide logistical, technical and military support for each other.
Speaking to reporters afterwards, the two ministers expressed the hope that the deal would lead to deeper, more serious military cooperation between the two sides.
Heading a military delegation, al-Hiyali arrived in Tehran on Saturday, weeks after the Iraqi government successfully recaptured the strategic city of Mosul from Daesh (ISIS) terrorists.
The Iraqi official also met with Iran's Supreme National Security Council Secretary Ali Shamkhani on Sunday, lauding the Islamic Republic for its unsparing support of the Iraqi nation in defeating Daesh.
Given the two countries' common goals and interests, he said, ties between Iran and Iraq need to be expanded.
Al-Hiyali also said that the Iraqi government will not allow any new plots and illegal measures aimed at dismembering Iraq.
The Iraqi defense chief was indirectly referring to a plan by the Iraqi Kurdistan Regional Government (KRG) to hold an independence referendum in September.
Shamkhani, for his part, noted that the Arab country's territorial unity and national integrity will ensure the stability, security and protection of the interests of all Iraqi people.
He also voiced Iran's support to the Iraqi armed forces in the fight against terrorism, as well as assistance in rebuilding and developing Iraqi cities after years of war.
Iran was among the first countries coming to the aid of the Iraq when Daesh insurgents seized control of vast areas of the Arab country in 2014 and announced the establishment of a new caliphate.
The Islamic Republic has also sent military advisers to train the Iraqi army and the Kurdish forces to fight Daesh.
MH/PA