Zarif: Iraqis must unite to defeat terrorism
November 2, 2016 - 8:51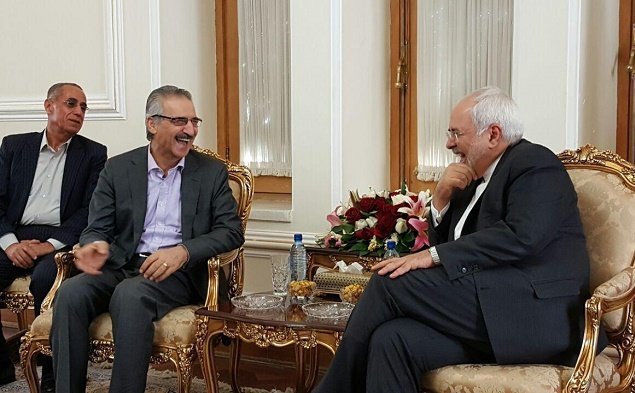 TEHRAN – Iranian Foreign Minister Mohammad Javad Zarif said on Monday that all Iraqi tribes and ethnic groups must be united in order to defeat terrorism in their country.
Zarif made the remarks in a meeting with Mala Bakhtiar, the chief of executive body of Patriotic Union of Kurdistan (PUK).
The two sides exchanged views on regional developments and ways to combat terrorism in Iraq.
Iran and the Iraqi Kurdistan Region have been negotiating in recent months to boost cooperation on security issues.
Back in August, Iran's Supreme National Security Council (SNSC) Ali Shamkhani and the Iraqi Kurdistan Region's Interior Minister Karim Sinjari met to discuss the security situation in Iraq's semi-autonomous Kurdistan region as well as ways to further ramp up the security of the region.
"Sustainable security along the borders is a redline for the Islamic Republic and the country's police and security forces will strongly counter any move threatening the country's borders," Shamkhani said.
Bakhtiar also met with Iran's Interior Minister Abdolreza Rahmani Fazli on Tuesday to discuss ways to counter terrorism.
Rahmani Fazli underlined the importance of unity among Muslim nations in the region in order to defeat terrorist groups.
Since the rise of Daesh in Iraq in June 2014, violence has plagued the northern and western parts of the oil-rich country.
Iraqi military and popular mobilization forces, backed by Kurdish Peshmerga, launched an operation on 16 October to liberate the city of Mosul from the terrorist group.
The liberation of the strategic city of Mosul would have a great impact on the region's security.
"We consider solidarity and support for the world's Muslims as our humanitarian duty and wish for unity, security, sustainable peace, economic development for the Iraqi government and people," Rahmani Fazli asserted.
The minister also announced that Iranian western provinces plan to develop economic relations with their Iraqi neighboring provinces.
Rahmani Fazli called for cooperation between the two sides in order to fight drug smuggling and illegal cross-border transactions.
He noted that Iran-Iraq ties are expanding in different fields, including economy.
Bakhtiar, for his turn, expressed satisfaction for meeting with the Iranian interior minister and lauded the important role that the ministry plays in strengthening ties with neighboring countries, especially Iraq.
"Security, stability and economic prosperity of regional markets would benefit neighboring countries, and we're well-aware of our duties in strengthening such ties," said the PUK official.
He further underscored the need to "strengthen and deepen" relations between the Kurdistan region and the Islamic Republic.
MH/PA