Iraq's Muqtada al-Sadr visits Saudi Arabia, hold talks with crown prince
July 31, 2017 - 21:8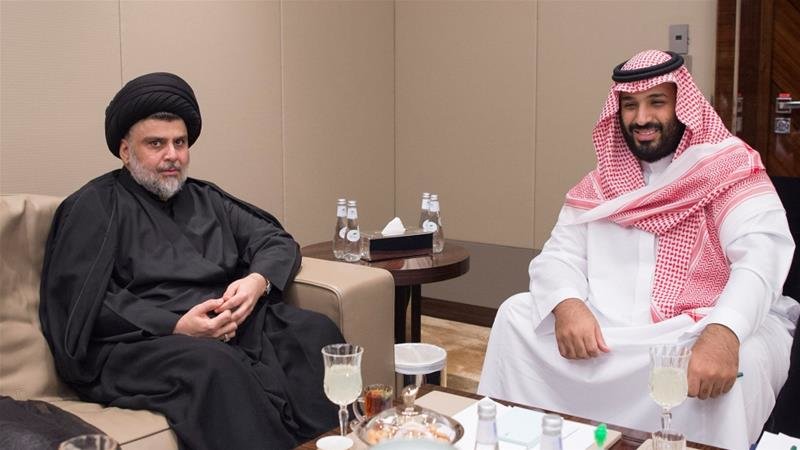 TEHRAN – Iraq's top Shia cleric Muqtada al-Sadr has made a visit to Saudi Arabia, where he met Crown Prince Mohammed bin Salman and other Saudi officials.
Saudi Press Agency reported on Sunday that Sadr met Mohammed bin Salman at the Red Sea port city of Jeddah, where they exchanged views on topics of mutual interests.
The influential cleric was greeted upon his arrival by Saudi's former ambassador Thamer al-Sabhan.
According to a statement released by Sadr's office ahead of his visit, the cleric had been invited to the kingdom.
"His Eminence Sayyed Muqtada al-Sadr, may God have mercy on him, goes to visit Saudi Arabia at an official invitation," the statement read.
Sadr last visited Saudi Arabia some 11 years ago.
"We have been very pleased with what we found to be a positive breakthrough in the Saudi-Iraqi relations, and we hope it is the beginning of the retreat of sectarian strife in the Arab-Islamic region," a statement from al-Sadr's office said, following the meeting in Jeddah.
According to Kurdistan24, during the meeting, Salman and Sadr discussed the future of Iraq and the impact of the upcoming referendum independence in the Iraqi Kurdistan. Both sides reportedly stressed the need for a unified Iraq.
The influential cleric's visit to Saudi Arabia – Iran's regional rival – comes despite Baghdad's friendly relations with Tehran.
Sadr has recently been highly critical of Iran's role in the region, especially in Iraq and Syria. Iran supports the Iraqi government in its fight against Daesh (ISIS) and is also one of the staunchest allies of the Syrian government.
In April, Sadr called for Syrian President Bashar al-Assad to step down.
"I would consider it fair for President Bashar al-Assad to resign and leave power, allowing the dear people of Syria to avoid the scourge of war and terrorist oppression," he said.
Sadr has also called for the Shia fighters, who have helped the Iraqi government against Daesh, to be disbanded.
MH/PA