Iranian and Saudi foreign ministers shake hands 
August 2, 2017 - 11:44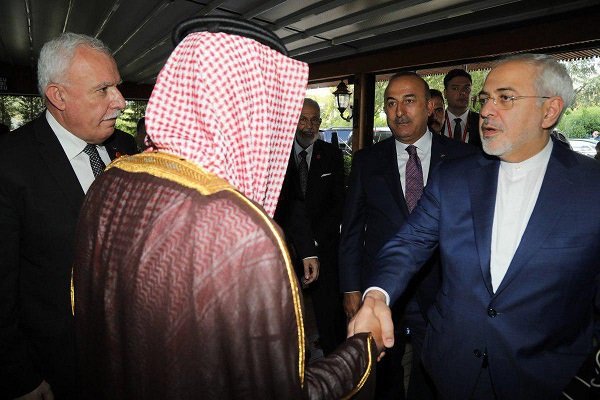 TEHRAN – Mohammad Javad Zarif, the head of Iran's diplomacy apparatus, and his Saudi counterpart Adel al-Jubeir shook hands on Tuesday, a one-of-a-kind moment in relations between the rival nations in years.
The two greeted each other at an extraordinary meeting in Istanbul of the Organization of Islamic Cooperation (OIC) on recent tensions in the occupied city of al-Quds.
Also, the two top diplomats seized the opportunity to hold brief talks after the rare handshake.
Zarif explained that the move was within "diplomatic conventions" and a sign of his "mutual respect and long-standing friendship with Jubeir".
"While the Islamic Republic does not agree with many policies of the government of Saudi Arabia, it has always been our policy to be on good terms with our neighbors," Zarif told reporters in Tehran on Wednesday.
"Our neighbors have always been our priority, and that will be the case with the next administration, as well," Zarif added, a reference to President Rouhani's next government in which he will most likely retain his post as chief diplomat.
The Saudi side has not reacted to the handshake.
Iran, Saudi Arabia have been locked in a list of disagreements, unseen in three decades. The handshaking between the top diplomats could be the precursor event to something really dramatic, a thaw in strained relations.
Since 2011 when popular protests in Syria turned into civil war, Tehran and Saudi Arabia have been hurtling toward brinkmanship, risking a direct confrontation in an already volatile region.
While Tehran is a vocal backer of Syria's President Bashar al-Assad in a battleground fought by numerous sides, Riyadh has acted the otherwise, demanding him step down.
Subsequent stumbling points have widened the rift. Riyadh's anger over Iran's nuclear program and the 2015 deal with world powers was barely concealed due to concerns that the accord could increase Tehran's ability to spread its influence.
The fears played out in the execution of a prominent Shiite cleric, Sheikh Nimr al-Nimr, by Riyadh just two weeks before the implementation of the nuclear accord in January 2016.
Sheikh Nimr was an outspoken critic of the Saudi monarchy and was adopted as a symbolic leader by Shiite protesters in several Persian Gulf countries during the Arab Spring uprisings.
The execution prompted protesters in Tehran and Mashhad to ransack Saudi diplomatic posts.
Following the storming, Riyadh cut all diplomatic ties with Tehran, giving Iranian diplomats in Saudi Arabia 48 hours to leave the country with the impasse still smoldering.
The development kicked off a new round of sparring between the two regional rivals.
The unprecedented mutual vitriol has negated efforts so far to resolve a Hajj stampede in 2015, during which 464 Iranian pilgrims were killed. Iran cancelled participation in Hajj 2016, blaming Saudi mismanagement for the cancellation.
Media reports said Riyadh has recently expressed readiness to discuss the stampede subject with Iran.
Iran and Saudi Arabia have also been trading barbs over the situation in Yemen, under the Saudi-led airstrikes since March 2015. Unlike Saudi accusations, Tehran denies the Houthis are a proxy Iranian force, calling for an end to the invasion.
In May, a war of words erupted as Saudi Defense Minister and now Crown Prince Mohammed bin Salman accused Iran of trying "to reach the focal point of Muslims (Mecca)," saying that he would protect his kingdom against what he called Iranian efforts to dominate the Muslim world.
In unusually blunt remarks, Salman also threatened that any struggle for influence ought to take place "inside Iran, not in Saudi Arabia," ruling out dialogue with Tehran.
Reacting to the comments, Zarif accused the Saudi side of "dangerously" seeking tension.
The Qatar row has presented itself to be a new entanglement. Downgrading diplomatic ties with Iran featured in a list of 13 demands put in by the Saudi-led group which announced on June 5 they were severing ties with Qatar.
The group accuses Qatar of supporting "extremism" and of being too close to Saudi Arabia's regional rival Iran.
Still there is hope for a détente. While regional and international intervention has failed so far to bring Tehran and Riyadh to the negotiation table, resumption of the Hajj pilgrimage this year is happy news.
Also, Tehran has shown openness to a thaw. In a recent interview with France 24, Kamal Kharrazi, the head of Iran's Strategic Council on Foreign Relations and a foreign policy adviser to Leader Ayatollah Ali Khamenei, said Iran was open to "dialogue" with Saudi Arabia despite escalating tensions.
"We know they (Riyadh) have made many mistakes in Yemen, Bahrain, Iraq and Syria, but we are still for dialogue," Kharrazi said.
MH/PA