Time for Stephen Bannon to start worrying?
August 4, 2017 - 4:0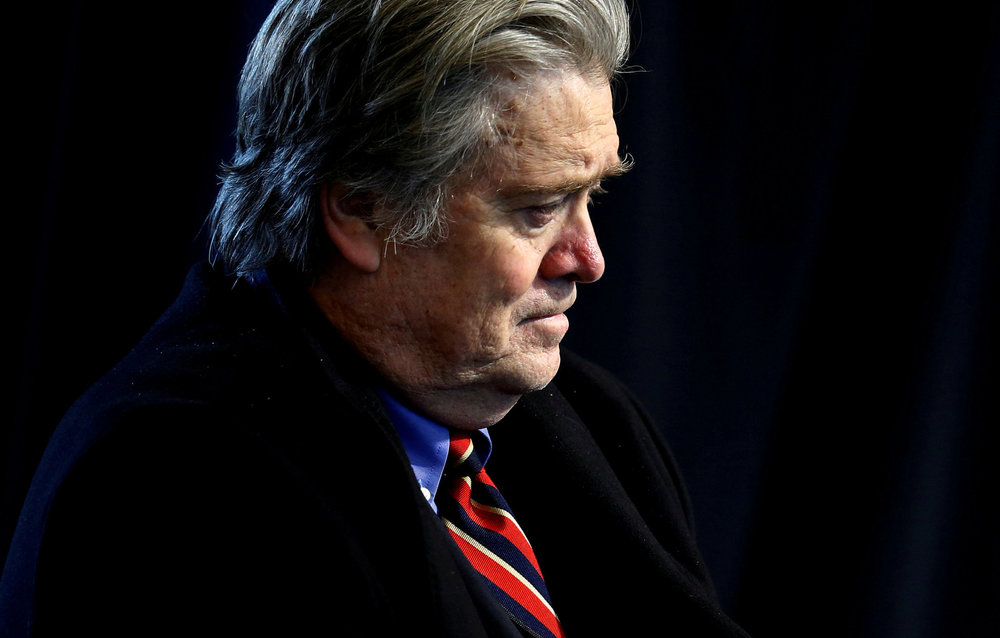 These are dangerous days for Stephen Bannon, President Trump's brain.
A new book about the White House chief strategist portrays the president as the empty vessel into which Bannon poured his ideology and agenda, propelling the two of them into the White House. The book, "Devil's Bargain: Steve Bannon, Donald Trump, and the Storming of the Presidency," by Joshua Green, a reporter who has known Bannon for years, is a best seller that gives Trump second billing. That's made the empty vessel very angry.
Trump's White House is drifting so dangerously that we find ourselves searching for ballast in unlikely places. There's Jeff Sessions, who refused to resign his post as attorney general amid daily humiliations. The new chief of staff, John Kelly, got off to a good start by arranging the sacking of Anthony Scaramucci, the inept and mercifully short-lived communications director.
And then there's — ready for this? — Bannon, the alt-right ideologue who's emerged as one of the steadier hands on the ship. During the bile-filled, Breitbart-fueled campaign, Bannon encouraged Trump, who called him "my Steve," to toss all convention overboard. Now, while Trump tweets and rages, and drifts aimlessly from one policy to the next, Bannon keeps a whiteboard in his office war room with a handwritten list of Trump's campaign promises. Not many of these promises have been checked off. But what's interesting is that Bannon is keeping such a list, and while it's easy to disagree with a lot of the items on it, he at least seems to represent fealty to what Trump voters said they wanted.
Last week Trump channeled his ire at Bannon through the Mooch's potty mouth, whose barking-mad phone call to The New Yorker — I'm paraphrasing mightily here — impugned Bannon as a self-promoter exploiting the president to "build his own brand
He also seems, at times, a voice for sanity, although in the Trump White House that's a relative term. He objected to Trump's untimely firing of James Comey, the FBI director; warned Trump against continuing his abusive campaign against Sessions; and opposed Scaramucci's appointment, saying Trump needed a professional, not another inexperienced loyalist, to guide a press shop whose "messaging" consists mostly of post-tweet babble.
Policy matters
On policy matters, Bannon opposes further troop commitments to Afghanistan, and he has urged that taxes on the incomes of the wealthiest Americans remain high as part of any comprehensive tax reform.
Bannon "understands the base more than anybody else in the building, and may be the only person in the building who's thinking three or four moves ahead," says Barry Bennett, a former adviser to the Trump campaign who makes a nice living offering public relations counsel to Trump's Twitter targets, like the government of Qatar. "He is very keyed into middle-class America. In the White House he may be their only advocate."
But as the Chinese idiom goes, the shot hits the bird that pokes its head out.
Trump's departed Mini-Me probably didn't come up with that characterization on his own. Now that Reince Priebus, the fired chief of staff with whom he'd had an alliance of sorts, is gone, Bannon might be worrying about his future, too.
Bannon is a wily operator who's dodged many Trump tirades. A former naval officer, he gets along with Kelly, the Marine Corps general who mowed down the Mooch. But given Trump's weakness, vanity and plain incompetence, there are limits to how much Bannon, who helped birth this dysfunctional presidency, can do to fix it.
(Source: The NYT)