Iran attends Afghan Independence Day at ministerial level
August 22, 2017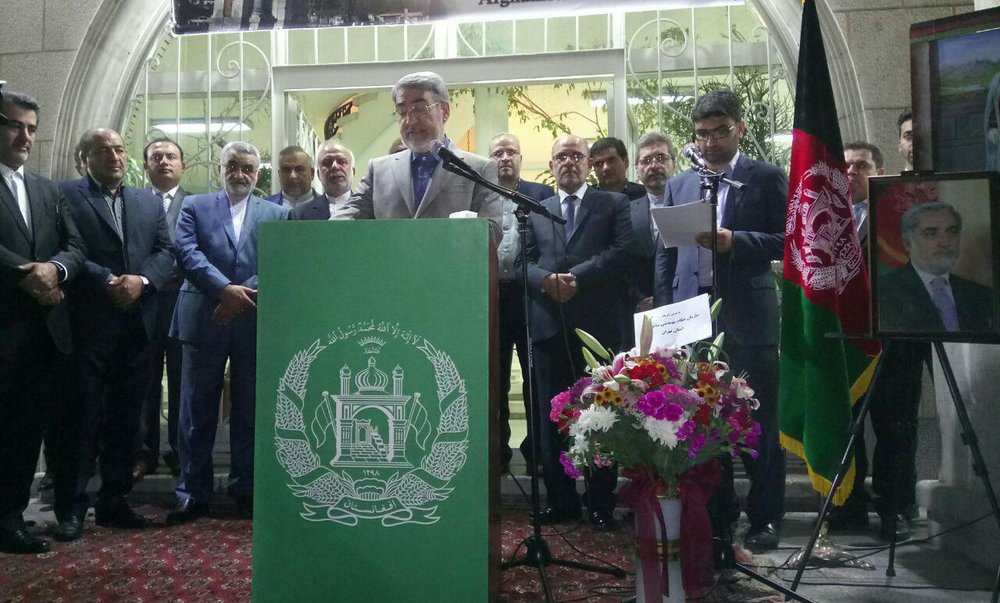 TEHRAN – On Monday evening, the embassy of the Islamic Republic of Afghanistan in Tehran held a ceremony to mark its Independence Day anniversary, where Iran's Interior Minister Abdolreza Rahmani Fazli attended.
Such high-ranking officials as Alaeddin Boroujerdi, chairman of the Majlis National Security and Foreign Policy Committee, and Ebrahim Rahimpour, the deputy foreign minister for Asia and Pacific affairs, also were present at the event.
Speaking at the ceremony, Rahmani Fazli, who also heads the Iranian side of a joint committee with Afghanistan, underlined Tehran's preparedness to help Afghanistan in the fight against terrorist groups.
"The Islamic Republic of Iran doesn't spare any efforts to help the Afghan government to annihilate the terrorists," he stated.
Noting that Iran has allocated nearly $500 million to the reconstruction of Afghanistan in the past decade after the toppling of the Taliban regime, he said, "Tehran is ready to play a more serious role in the process of development and reconstruction of Afghanistan in the future and in line with accompanying the international community and the regional states."
"Iran is ready to play a more important role, along with the international community and Afghanistan's neighbors, in reconstruction and development of the country."
Rahmani Fazli stressed that Iran doesn't see any limit to the development of relations with neighbors, especially Afghanistan, and wants removal of all obstacles to the expansion of trade, economic and investment ties to meet mutual interests.
"Iran's Interior Ministry is doing its best to develop commercial, economic, investment, banking, insurance, customs and transportation, industry and mining, scientific and educational relations with Afghanistan," the minister stated.
Rahmani Fazli stated according to international organizations, Afghan citizens living in Iran have the best conditions compared to foreign nationals residing in other countries.
He also said that about 450,000 Afghans are attending Iranian schools and 17 thousand attending Iranian universities. "Many Afghan experts have been schooled in Iran and now can help build the future of their country," the Iranian minister said.
SP/PA