Bam citadel's giant gateway regaining former glory
September 2, 2017 - 19:57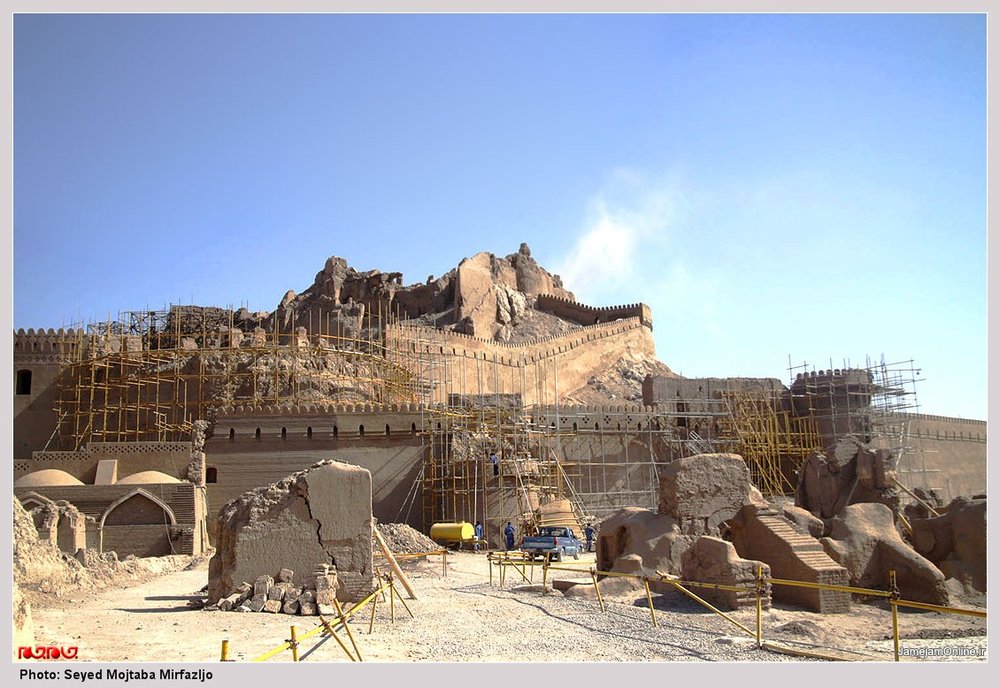 TEHRAN – Restoration work on the giant gateway of Arg-e Bam, a quake-stricken UNESCO-registered citadel in south-eastern Iran, will be completed in October, said the Bam and its Cultural Landscape project manager.
"Currently, restoration for Arg-e Bam's main entrance has entered its final stage," Mehr quoted Afshin Ebrahimi as saying on Wednesday.
The renovation work will be capped by installing an exquisite wooden door, which is made based on original designs with an expectation of slight modifications, Ebrahimi said.
Two other gateways to the adobe citadel have already been fully restored, the official reminded, adding there are thirteen restoration workshops inside the citadel and three outside at the moment.
The massive fortress and its environs were almost completely brought down to earth due to a devastating earthquake on December 26, 2003.
Restoration of the [whole] citadel will be completed within the next two years, Mahmoud Vafaei, the head of the provincial office of the Cultural Heritage, Tourism and Handicrafts Organization, announced earlier this month.
"Roughly 70 percent of the site will be restored in total, since [UNESCO] regulations oblige us to ensure that the impact of the earthquake remains visible," Vafaei added.
Bam and its Cultural Landscape is located on the southern edge of the Iranian high plateau, in Kerman Province, close to the Pakistan border. It's highly regarded as an outstanding example of an ancient fortified settlement.
According to UNESCO, the origins of the citadel can be traced back to the Achaemenid period (6th to 4th centuries BC) and even beyond. The ensemble was on crossroads of important trade routes as well in its heyday sometime between 7th to 11th centuries.
PHOTO: An undated photo depicts ancient Bam citadel undergoing renovation in south-eastern Iran.
AFM/MG
Got to make it look 'weathered' like it was old.