By Setareh Behroozi
Iran-e Man, a campaign bringing color to deprived schools
September 6, 2017 - 17:25
With the summer drawing to a close, it is time for millions of children around Iran heading back to school.
In Iran, the academic year officially begins on the first day of autumn, which falls on September 23.
However autumn air to sweep across cities from weeks earlier and with back-to-school season makes everyone think about schoolchildren.
During recent years, with spreading of social media like Instagram and Telegram in Iran, some users initiate viral online fundraising campaigns to collect money to provide stationery products for deprived schoolchildren during last weeks of summer.
However there are some campaigners who think more deeply about the educational problems that underprivileged schoolchildren deal with during academic year.
Iran-e Man, a campaign initiated by the private sector three years ago, focuses on building schools in deprived areas and holding programs toward sustainable development of such regions.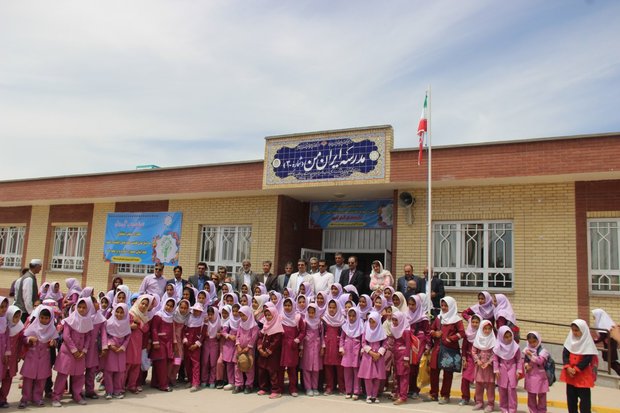 Iran-e Man, an ambitious fundraising for schoolchildren
The campaign was launched with the aim of building 100 schools in deprived parts of the country, mainly border regions, the executive manager of the program Mina Kamran told the Tehran Times.
"We have built 40 schools up to now and we plan to achieve sustainable development goal in these schools," Kamran explained.
All the schools are named 'Iran-e Man', literally meaning 'my Iran'.
"In fact, we plan to make the schools as a place to help attain rural development in the future," she said, adding that empowerment of teachers working in remote areas is one of the main aims of the campaigns after building schools.
"What we plan for is a process not projects. Actually we are building schools so that we can provide a place for education and also build trust among locals," Kamran explained.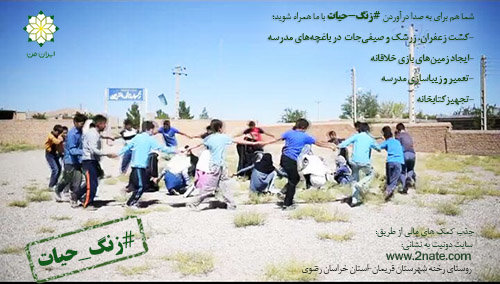 Zang-e Hayat: A chance to enjoy education
Zang-e Hayat is another campaign followed over the course of past weeks.
The name of the campaign wisely uses the word 'Hayat' in Persian language, which means both 'life' and 'yard', so the combination means in English 'Life/Yard Bell'.
It aims at raising fund to renovate and build schoolyards in Rekhneh Village in Khorasan Razavi Province.
The project has been shaped based on suggestions by teachers of schools in deprived regions, Kamran said.
"Actually we call for innovative ideas suggested by teachers in deprived villages so we support them but we have received no creative suggestion at first.
"So we hold online workshops for teachers so that they learn about creative methods," she said.
The school in Rekhneh has a 13-hectare yard, stones and thorns are scattered all around it and children have no place for playing, Kamran explained.
"With the help of local community the yard is being cleared and is ready for further stages," she said.
Kamran said that it has been planned to allocate a place for creative games and some other parts for planting saffron, medical plants and vegetables.
"Vegetables are used as their daily nutrition and they can sell saffron and medical plants to have income to equip their school," she explained.
Benevolent people can offer their support for the project through the website 2nate.com, she said.
She stressed on the importance of 'sustainability' and the role of 'locals' in their plans.
"We do not want to give financial support for poor schoolchildren but to help them to think creative and have opportunity to implement their ideas," she concluded.
SB/MG