Top Iranian officials hail Daesh defeat in Dayr al-Zawr 
September 6, 2017 - 20:47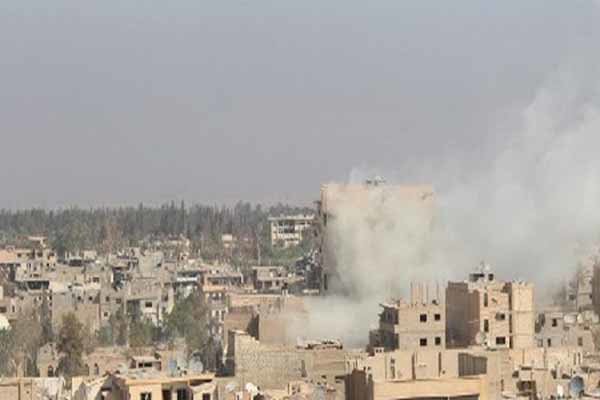 TEHRAN – A number of senior Iranian officials have hailed the Syrian army and resistance forces for succeeding to break the siege on Dayr al-Zawr captured by Daesh three years ago.
Foreign Minister Mohammad Javad Zarif called it an "important victory" against extremist and terrorist groups.
Majlis Speaker Ali Larijani, also in a message, congratulated the Syrian army, resistance forces and people on the victory in Dayr al-Zawr, a city in eastern Syria.
"The liberation of Dayr al-Zawr and the lifting of a three-year Daesh blockade over the city with the efforts of the Syrian army and resistance forces have caused much joy and delight," Larijani remarked.
"This sweet victory, which was achieved by breaking the Daesh line in such a strategic zone, was the realization of the promise of victory of the forces of righteousness against wickedness and the great defeat of terrorism and extremism," he explained.
Larijani added, "The city of Dayr al-Zawr served as the Daesh headquarters in the region, and as such had been putting the citizens through so much pain and suffering. Thank God this heroic victory brought sweet freedom for these people at last."
Larijani further voiced hope for the complete liberation of Syria from takfiri terrorists, and the establishment of peace and order all across the country.
Also, Ali Akbar Velayati, the senior advisor to Supreme Leader Ayatollah Ali Khamenei, congratulated the Syrian government and nation for breaking the siege on the eastern city.
"I would like to felicitate the strong Syrian nation on the lifting of Dayr al-Zawr blockade, a nation which withstood brutal and inhumane crimes of Daesh terrorists until it witnessed victory and the break of blockade over this important region in Syria," noted Velayati who is also director of the Strategic Research Center of the Expediency Council.
He further expressed hope for the complete eradication of terrorists operating under any name or ideology and targeting the oppressed people of the region.
Daesh defeat makes Syria conflict easier to resolve
Foreign Minister Zarif once again voiced Tehran's objection to the settlement of the Syrian crisis militarily, saying, "The people and resistance (forces) are achieving victory in Syria and we will grow farther from a military solution with the defeat of Daesh."
Zarif also reiterated that the fate of the Syrians is in their own hands. "We should not dictate to the Syrian people what they should do. We have resisted against extremism and we must facilitate from now on the path of dialogue among different popular groups in Syria."
Zarif pointed to a new round of the Syria peace talks in Kazakhstan's capital of Astana, describing the initiative as the "most successful diplomatic move" adopted after the beginning of the Syrian crisis.
SP/PA