By Mohammad Ghaderi  Twitter: @ghaderi62
Challenges McCain-Graham's team face 
October 17, 2017 - 11:5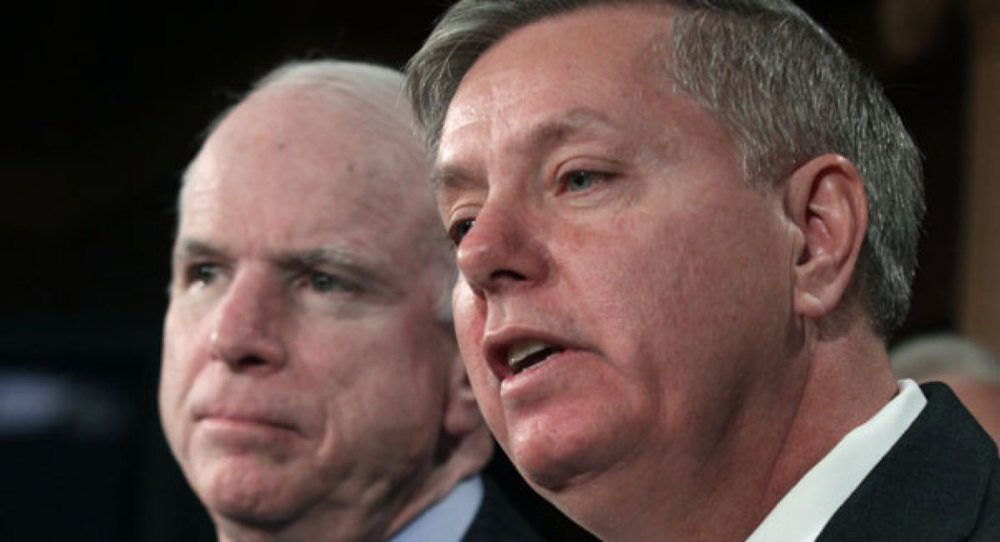 John McCain and Lindsey Graham are two U.S. senators who from the start voiced opposition to the Iran deal didn't shy away from expressing their objections once again in 2015 congressional voting.
Having gained the attention of American media for their radical stand against Iran, both senators are now quite puzzled at Trump's aggressive strategy and unwise approach to the Iran nuclear agreement.
On the one hand, they cannot deny opposing the Joint Comprehensive Plan of Action, JCPOA, and on the other they fear Trump's recent strategy to the Iran nuclear-related pact.
In his very recent strategy on Iran, McCain has said, "We hold Iran responsible for its actions and slap new sanctions regimes for its ballistic missile programs, put in place sanctions on the Islamic Revolutionary Guard Corp, IRGC, and Iranians accused of violating human rights, and intensify pre-existing sanctions on Iran government for the use of arms in Tehran."
McCain has made an attempt at NOT taking a clear position on rejection or endorsement of Trump's policy on the JCPOA and he is yet to outline his stance on decertification of the JCPOA and return of nuclear-related sanctions on Iran.
Such bewilderment is also noticeable in the behavior of the 62 year-old senator from South Carolina, Graham, who is among strong proponents of Iran's sanctions and subsequently opposition to the Iran nuclear deal in the Senate.
Graham believes in modifying the Iran nuclear deal as an alternative to exiting the JCPOA.
"The U.S. government is better off reviewing the Iran deal and slapping stricter terms on it than exiting the agreement. Iran may be in compliance with the JCPOA technically, but it is breaking the spirit of the deal by its ongoing destabilizing activities in the region", Graham noted.
Interestingly, McCain and Graham, who both have concerns over Trump in the White House, are the two influential senators in the U.S. Senate where some of the members of the Congress follow in their footsteps.
U.S. president's irrational, emotional and distant attitude has even made the most radical senators such as McCain and Graham struggle to justify and support the president.
Beyond a shadow of a doubt in the upcoming weeks or even months, we will witness escalation of internal arguments among the U.S. republicans over Trump's leadership like his strategy on the Iran deal.