Norway's ORG to conduct study on Iranian oilfield in Caspian Sea
November 1, 2017 - 20:35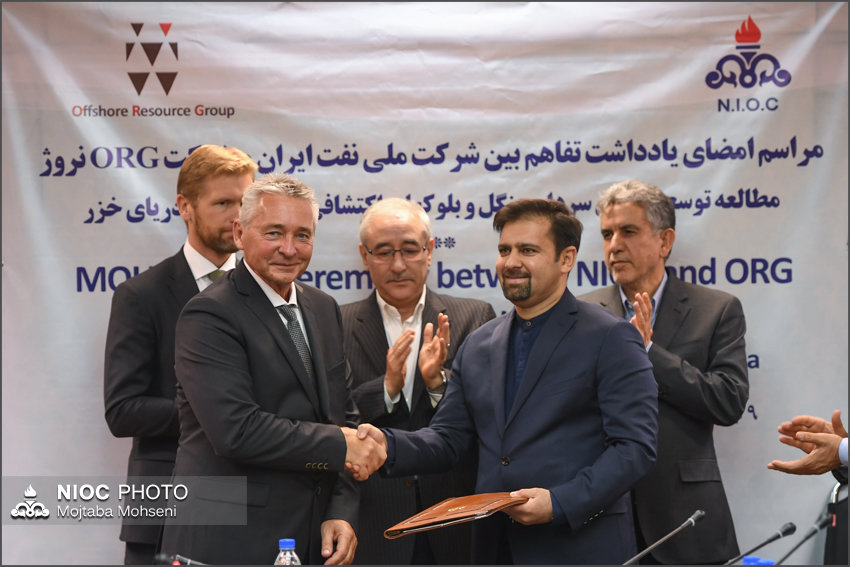 TEHRAN- The National Iranian Oil Company (NIOC) and the Norwegian Offshore Resource Group (ORG) inked a memorandum of understanding (MOU) on cooperation in conducting development studies on Sardar-e-Jangal oilfield and the exploratory blocks of 24, 26 and 29 in the Caspian Sea.
The MOU was signed in Tehran on Tuesday by Mohsen Delaviz, the managing director of Khazar Exploration and Production Company (KEPCO) – a subsidiary of NIOC- and Jostein Kaare Kjerstad, the executive director of ORG, the website of NIOC announced.
In 2002, Iran discovered a gas field in 700 meters water depth off the shore of the northern province of Gilan in the Caspian Sea and named it Sardar-e Jangal. The field contains total proven reserve of around 50 trillion cubic feet of natural gas.
Some 10 years later, exploration operation of Amir Kabir semi-submersible drilling rig (the largest offshore structure of the country with a weight of 14,700 tons) in the field led to discovery of an oil layer in 728 meters water depth in Sardar-e Jangal. The field is estimated to hold two billion barrels of quality crude that is toxic hydrogen sulfide free. Some 25% of the deposit is thought to be recoverable.
With some deposits discovered and some exploration activities conducted, the country is now seeking technical assistance from the outside to expand its deepwater operations in the Caspian Sea.
MA
PHOTO: Khazar Exploration and Production Company Managing Director Mohsen Delaviz (R) and ORG Executive Director Jostein Kaare Kjerstad shaking hand after signing co-op MOU in Tehran / PHOTO: Mojtaba Mohseni (NIOC)