By Naghmeh Mizanian
Mastoureh Ardalan, a rarity of her time, the first woman historian
November 20, 2017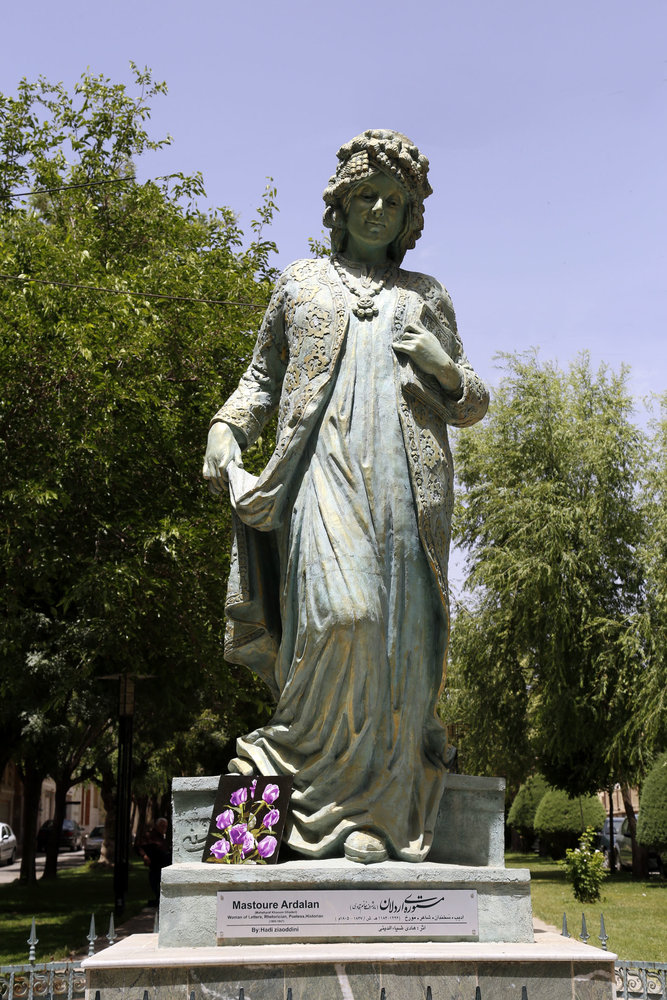 Born in 1805 in the western city of Sanandaj, Kordestan province, Mah Sharaf Khanoum Mastoureh Ardalan was a noble woman of her time and the first Iranian female historian.
She was a Kurdish poet, historian and writer at the time when many women were illiterate and were never permitted to go to maktabkhaneh (old schools of Iran).
She studied Kurdish, Arabic and Persian literature under the supervision of her farther, Abolhassan Beig Qadiri.
At the age of 17, Mastoureh was married to Khasraw Khan Ardalan, the ruler of the Ardalan territory centered in Senna (present-day Sanandaj).
Mastoureh was the second wife of Khasraw Khan. His first wife was Hosseinjan Khanoum, a daughter of Fath'ali Shah of Qajar dynasty. The marriage was politically-motivated in order to empower Kurds' power in the area.
Khasraw Khan was also interested in poets and poetry that made them to be in love.
The good manner and talent of Mastoureh made her husband a favorite and tolerant ruler.
However, their marriage didn't last long and Khasraw Khan died at the age of 29.
The loss of her husband and then her young brother made Mastoureh really depressed. She began to study religious books and it led her to write her book on Islamic jurisprudence. It was the first time that a woman was writing a book on this issue.
Mastoureh, also a calligrapher, was a member of the feudal aristocracy in the court of the Ardalan territory.
A 4.5-meter statue of Mastoureh, built by the great contemporary Kurdish sculptor, Hadi Ziauddini, has been installed near Khasraw Bagh (Khasraw Garden) in the city of Sanandaj.
She has written two poetry books, one was published in Iran in Persian language and the other was published in Kurdish language. The latter was found in Germany three years ago.
One of the relatives of Mastoureh is collecting her poems, being kept in European museums.
She was a modest, sedate, and pious woman, and was unknown for 200 years. Now one of her poems is included in 8th grade school curriculum of the country.
When Qajars conquered the Ardalan territory in the 19th century, she and her family left Sanandaj for Sulaymaniyah, a city in present-day Iraqi Kurdestan. Her son, Reza Qolikhan, the successor to Khasraw Khan, was imprisoned by the Qajars.
Mastoureh stayed in Sulaymaniyah until her death in 1848.
NM/MQ/MG