By Marjan Golpira
Romania marks National Day in Tehran
December 1, 2017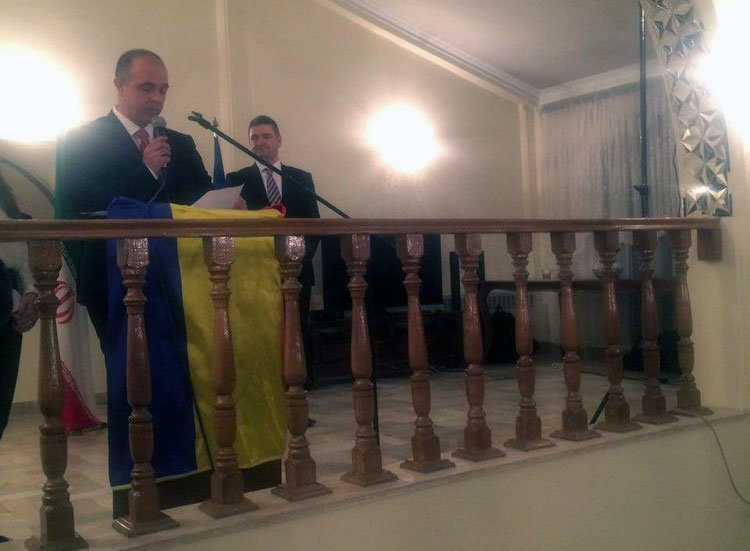 TEHRAN – To commemorate the anniversary of Romania National Day, otherwise known as Great Union Day, the Romanian ambassador to Tehran hosted a reception at his residence on Wednesday evening, November 28.
The occasion was celebrated two days ahead of the actual day which is officially marked on December 1 each year.
The ceremony began with the national anthems of both Romania and Iran, followed by a speech by Ambassador Adrian Kozjacski.
Speaking before a group of diplomatic corps, Iranian dignitaries and reporters, Ambassador Kozjacski pointed to the long tradition of cooperation between Romania and Iran, saying, "We treat Iran as an old, traditional partner, with a long common history of economic cooperation and human interactions."
At the political level, the envoy noted, the two countries have had exchanges of political visits and dialogues at the level of "two foreign ministers in Munich" and at the level of the "deputy foreign ministers in Tehran."
The diplomat then looked at areas where Iran can contribute to Romania's economy in oil and gas sector, chemical and petrochemical industry, power generation and distribution, renewable energy production, agriculture and the pharmaceutical industry.

Referring to education as one of the best "effective tools of cultural diplomacy," Ambassador Kozjackski urged Iranian youth to apply for programs of scholarship, in cultural and scientific areas, offered by the Romanian Foreign Ministry.
Expressing hope that Iran and Romania can reach real bilateral potential through dialogue, he announced the visit of the Friendship Parliamentarian Group from the Majlis and the Joint Economic Commission to Bucharest next year.
Bucharest's diplomat in Tehran assured that his country is prepared to lend a helping hand to Iran to "tackle international issues which the world public opinion is focused on."
The envoy then praised Iran for opening up to the intentional community through the JCPOA, the Joint Comprehensive Plan of Action, and called it a "testament" to "overcoming hurdles" among countries through "commitment and goodwill."