Certain countries catch cold when Trump sneezes: Zarif
December 16, 2017 - 20:50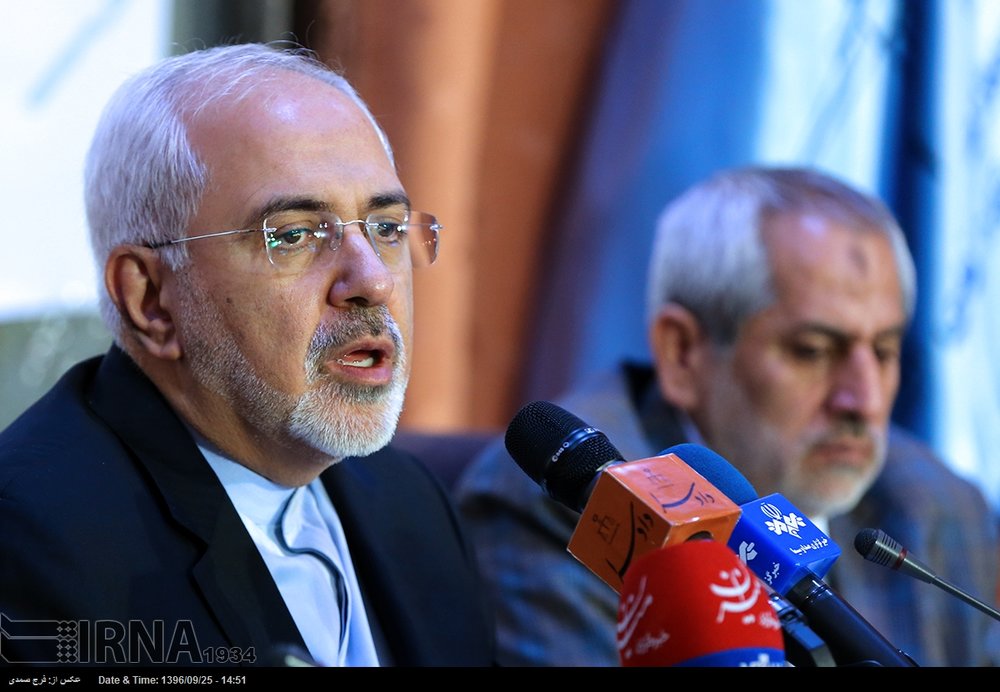 TEHRAN – Iranian Foreign Minister Mohammad Javad Zarif said on Saturday that certain countries in the region depend too much on major powers, noting they catch a cold when U.S. President Donald Trump sneezes.
"All the countries around us are either member to NATO [the North Atlantic Treaty Organization] or enjoy nuclear power and survival of some others depends on major powers which tremble when Trump sneezes and become happy when he laughs," he said during a speech at a human rights conference in Tehran.
However, he said, Iran draws its legitimacy and power from its own people.
"We have always been supported by the people and presence of the people helped the country pass the most serious crises," the chief diplomat remarked.
'Piece of metal'
Talking to reporters on the sidelines of the conference, he also said claims by U.S. Ambassador to UN Nikki Haley that Iran was supplying missiles to Yemeni rebels are "unfounded".
"The U.S. levels unfounded accusations against the Islamic Republic of Iran by showing a piece of metal to hide its presence in the region and the actions it takes, most of which can be considered as war crimes," he explained.
Haley on Thursday presented the debris of a missile at a military base in Washington in which she claimed it had been made by Iran and used on November 4 by Yemen's Houthi group to target an airport near Riyadh.
Zarif said that Haley's claims were not "authentic" and not even convincing for the Westerners.
"These claims were aimed at marginalizing the U.S. complicity in crimes being committed in our region especially in Yemen and also the very dangerous move by the U.S. in recognizing al-Quds as capital of Israel," he said.
U.S. President Donald Trump declared on December 6 that he recognizes al-Quds as the capital of Israel and ordered the relocation of the U.S. embassy from Tel Aviv to al-Quds. The move sparked international condemnation and led to protests around the world, especially in Arab countries.
NA/PA